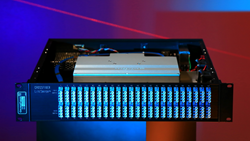 San Diego, CA (PRWEB) March 10, 2014
CrossFiber Inc., the leading provider of photonic switches to Web 2.0 data centers, has announced that it joined forces with Vello Systems and other optical components and systems vendors to create an open-standards-based IT software and optical hardware ecosystem for data centers and Cloud environments.
CrossFiber photonic switching systems, offered along with Vello's routing and virtual cross-connect software, replace proprietary edge data center router functions with ultra-low latency and low CapEx solutions in cloud provisioning applications such as those adopted recently by Pacnet or in other data center applications where network resources need to be matched dynamically with business priorities.
CrossFiber is the photonic cross-connect charter member in the Open Source Optical (OSO) initiative led by Vello Systems. The OSO members will define and promote OpenFlow-based hybrid packet and optical networking solutions to next-generation data centers and Cloud service providers.
"As photonics makes substantial inroads into next-generation data center architectures, CrossFiber photonic switches will work seamlessly with SDN software stacks such as those offered by Vello Systems," said Hus Tigli, President & CEO of CrossFiber. "We are excited to partner with Vello and be a part of the OSO forum."
"What CrossFiber is doing with OSO is nothing short of extending the utility and application of optical solutions into the heart of the data center and in a way that is fully integrated with next-gen standards-based Ethernet switching," said Karl May, CEO, Vello Systems. "Now data center providers and enterprises alike can offer easy-to-deploy, lower latency and higher reliability services that consume a fraction of the power and the CapEx of legacy solutions. And our growing partnership with CrossFiber has meant that we now have the ability to port our VellOSTM Connectivity Exchange precision application networking software across multiple types of optical platforms."
CrossFiber has the industry's largest engagements in Web 2.0 data centers.
About CrossFiber
CrossFiber is a leading innovator, developer and manufacturer of breakthrough photonic switches for data centers and telco fiber optic networks. CrossFiber photonic switches are based on proprietary technologies which combine 3D MEMS micro-mirrors on silicon, non-invasive beam steering (NIBS), and custom ASICs. CrossFiber's unique combination of performance and cost makes LiteSwitch™ systems the most suitable across all major applications in data centers and telco fiber optic switching. More information can be found at http://www.crossfiber.com.
About Vello
Vello Systems is delivering cutting-edge software that revolutionize IT consumption without any reliance on expensive and proprietary hardware. Vello eliminates the complexity of connecting storage and compute systems to improve overall IT performance, reliability, and cost effectiveness. The company's open networking solutions, with standard programmatic interfaces, integrate seamlessly into leading IT solutions. Vello solutions are built around the VellOS operating environment and provide new levels of automation, visibility, security and analytics to cloud service providers and enterprise customers alike. Vello's solutions are commercially available and have been deployed by both Tier 1 Managed Service providers and blue chip Fortune 500 customers in mission-critical environments. For more information contact http://www.vellosystems.com.