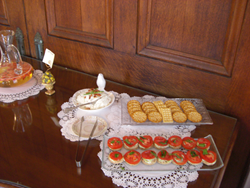 Cooking With Fresh and Often Local Ingredients
Savannah, GA (PRWEB) March 26, 2014
Over the 14 years innkeeper, Lori Blass, has owned the Forsyth Park Inn; many guests have requested and taken home the recipes for some of their personal favorites, but what about those who never think to ask? Concierge, Daphne, created a Pinterest page where the Inn is sharing all of their favorite recipes so when guests return home, they can recreate the many memorable delights they enjoyed eating while at the inn. Many of the Inn's delicious creations are simple and easy to prepare. With the launch of this new Pinterest page, everyone will be able to get cooking Forsyth Park Inn style.
From the Inn's gourmet plated breakfasts, including their most requested lemon zest buttermilk pancakes, evening hors d'oeuvres, right down to the heavenly desserts, everything they serve is homemade. Their delicious tomato sandwiches are a combination of love, sliced baby sweet tomatoes, pesto mayo and a pinch of pepper on any kind of bread. The Inn's famous dill spread only requires dill, cream cheese, sour cream, salt, and garlic powder. Speaking of spreads, there is homemade curry chutney spread and Renee's Reuben spread. A few of their best featured dips include: sweet Vidalia onion, spinach, artichoke, and home style French onion dip. All of these and many more will appear on their new Pinterest page, "The Innkeepers Favorite Recipes."
The concierge will be highlighting some of the guest's favorite desserts such as, Honey Bun Cake, Raspberry Vanilla Cake, Double Chocolate Cup Cakes, and many, many more. Of course they aren't forgetting breakfast! Want the secret to Forsyth Park Inn light and fluffy made from scratch buttermilk pancakes? Excited about the how-to on their delectable varieties of French toast? Need a real southerner to explain the perfect grits? If you are dying for the recipes, they are just a click away.
Blass says, "Cooking with fresh and often local ingredients keeps our guests coming back throughout the year to try our seasonal specialties." This week guests will be enjoying spring time weather with temperatures in the high 70's. With this weather, breakfast is served on the sweeping veranda which overlooks enchanting Forsyth Park. Guests of the inn are sure to enjoy Meyer's lemon blueberry buttermilk pancakes topped with citrus infused butter while sitting outside in the warmth of Savannah's spring air.