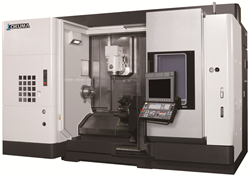 As companies try to get more productivity with less machines and fewer setups and changeovers, multitasking is becoming a standard.
Charlotte, NC (PRWEB) March 07, 2014
Okuma announces its new MULTUS U Series general purpose multitasking CNC lathes, which are designed to reduce setup time, improve accuracy and keep non-cutting time to a minimum. The series includes two machine sizes: the MULTUS U3000 and the MULTUS U4000. The MULTUS U Series lathes are equipped with a comprehensive package of Okuma's Intelligent Technologies (Thermo-Friendly Concept, Collision Avoidance System and Machining Navi) and a variety of efficiency features which make them "Intelligent Multitasking Machines."
"Intelligent Multitasking Machines" Provide a Complete Package
Built with Okuma's renowned heavy-duty construction, the MULTUS U series CNC lathes provide a robust platform for long-term rigidity and accuracy. They are excellent for machining process-intensive parts – such as those in Aerospace, Oil/Energy, Medical and Construction – and provide a complete multitasking solution:

Flexible CNC machining from all directions – A highly rigid traveling column allows for powerful cutting along the entire Y-axis
Extended specs for a variety of applications – 17 diverse variations in specs – including multiple bed lengths, optional sub-spindle (W-Axis) and optional lower turret – provide a specific solution that matches application requirements
Maximum Milling or Turning Performance – For highly-efficient cutting of difficult-to-machine materials and a wide variety of CNC machining applications
Thermo-Friendly Concept – Provides long, stable machining accuracy with thermo-static design and thermal deformation control technology
Shorter Setup Time and Prevention of Collisions – The OSP-P300S control reduces keyboard operations by 50% and maximizes uptime with its Collision Avoidance System
Machining Navi (optional) – Maximizes tool performance by choosing the optimal speed(s) at which the machine can avoid chatter
Operator-Friendly Design – Easy tool loading from the machine front, improved spindle access for faster setup times, and smooth chip discharge for better chip flow
For more information visit http://www.okuma.com/multus-u-series.
# # #
About Okuma America Corporation
Okuma America Corporation is the U.S.-based sales and service affiliate of Okuma Corporation, a world leader in CNC (computer numeric control) machine tools, founded in 1898 in Nagoya, Japan. The company is the industry's only single-source provider, with the CNC machine, drive, motors, encoders, spindle and CNC control all manufactured by Okuma. Okuma's innovative and reliable technology, paired with comprehensive, localized service protection, allows users to run continuously with confidence – maximizing profitability. Along with its industry-leading distribution network (largest in the Americas), and Partners in THINC, Okuma facilitates quality, productivity and efficiency, empowering the customer and enabling competitive advantage in today's demanding manufacturing environment. For more information, visit http://www.okuma.com/americas or follow us on Facebook or Twitter @OkumaAmerica.