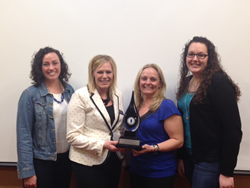 Salt Lake City, Utah (PRWEB) March 07, 2014
CLEARLINK's "360° Fit" wellness program was honored with the premiere Gold Healthy Worksite Award. The Healthy Worksite Awards Program recognizes companies that implement on-site work policies and worksite environments that support healthy employee lifestyles. The Utah-based award follows additional accolades that CLEARLINK has received for three consecutive years from Corporate Wellness by Gold's Gym.
"The health and overall wellness of our employees is incredibly important to us," said Cammie Cable, Vice President of Human Resources at CLEARLINK. "We want to ensure employees are happy and healthy, both in and out of the workplace. Our 360° Fit program was designed to provide resources to help CLEARLINKers make healthy improvements in every aspect of their lives, and we align company goals and success metrics with the health of our employees, creating a win-win."
The 360° Fit wellness program is one of many unique benefits for CLEARLINK employees. The program offers a holistic approach to wellness, fostered by the belief that a happier, healthier workplace produces a more productive workforce. By participating in the 360° Fit program, employees and their families can earn 100 percent employer-paid health care at an affordable cost to the company. Program participants are required to exercise, track meals, take wellness courses, attend monthly health coach meetings, complete health challenges and more. By implementing an improved two-level program focused on the combination of participation and biometric results, the company has created a way to control cost and incentivize healthy lifestyle behaviors in their employee base.
About CLEARLINK
CLEARLINK partners with the world's leading brands to extend their marketing reach, drive valuable transactions and deepen insight into consumer behavior. CLEARLINK has delivered millions of customers to its brand partners over the past ten years through its customized marketing, sales and analytics platform.
CLEARLINK, headquartered in Salt Lake City, Utah and established in 2003, employs over 1,200 local marketing, sales and technology professionals.
In 2013, CLEARLINK was named one of America's top 100 companies to work for according to Outside magazine. Chief Executive Officer, Phil Hansen was recognized as the Ernst & Young Entrepreneur of the Year® in the Services category of the Utah Region and Chief Marketing Officer, Ted Roxbury was named Utah Business' Sales and Marketer of the Year. The company was also recognized for significant revenue growth, both in the Utah Business' Fast 50 and MountainWest Capital Utah 100.
For an opportunity to join the growing CLEARLINK family, visit http://www.clearlink.com/jobs.
Media Contact
Tarah Reeves
CLEARLINK
Public Relations Director
Tarah.Reeves(at)clearlink(dot)com