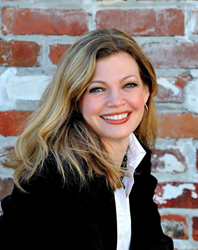 Bloomington, IL (PRWEB) March 12, 2014
Tammy Carcasson, General Manager/Owner with Crowne Realty LLC was a speaker at the Leading Real Estate Companies of the World® Annual Conference February 25-27 at Wynn Las Vegas. The event was part of the Leading Real Estate Companies of the World® (LeadingRE) Conference Week, which drew a record attendance of 2,500 real estate professionals from nearly 20 countries. The conference was open only to brokers, managers and business development and relocation professionals affiliated with LeadingRE, a global network of 500+ market-leading real estate firms representing more home sales than any other real estate network.
The Annual Conference offered in-depth discussions on today's real estate market and ways to best assist home buyers and sellers. Carcasson presented information on the role of the relocation professional in conducting customer needs assessments, sharing insights on the importance of identifying the needs first and the methodology to ensure the needs are met.
Carcasson was among a notable line-up of speakers, which included keynote speakers Navy SEAL Rorke Denver, who starred in the 2012 hit film "Act of Valor," and top-rated business author Daniel Pink. Also featured were real estate strategist Ann Bailey; social media strategist Eric Bryn; credit-scoring expert Nabil Captan; sales coach Darryl Davis; marketing consultant Marc Davison; business coach Matt Dollinger; online review authority Jason Dolle; social media specialist Katie Lance; sales coach Larry Kendall; technology consultant Victor Lund; publisher Steve Murray; real estate analyst Stefan Swanepoel; and technology consultant Marilyn Wilson. The Deans of LeadingRE's Institute – all highly regarded real estate consultants and business coaches – were also featured: Matthew Ferrara, Steve Harney, Debbie Maier and Mike Staver.
"The success of the Annual Conference was due in large part to our talented member speakers, who generously shared their strategies and insights with other members," said Pam O'Connor, president/CEO of LeadingRE. "Their willingness to contribute so openly helped ensure the sessions were timely, relevant and meaningful in today's market, and we are grateful for their contributions to the event and our network as a whole."
"This conference truly deepens my appreciation for the immense talent and professionalism that make up this network," said Carcasson. "I was honored to be asked to speak at the conference this year."
Crowne Realty LLC is the Bloomington/Normal IL representative of Leading Real Estate Companies of the World® (http://www.LeadingRE.com), the largest network of premier locally-branded firms producing over one million annual home sale transactions. LeadingRE provides its affiliates with an extensive range of brokerage services, which include lead generation, cross-market referrals, branding support, luxury marketing, online exposure, technology systems, and industry-leading professional development.
Tammy Carcasson is the General Manager and co-owner of Crowne Realty LLC and founder of ForSaleChoice.com. She is graduate from Bradley University with a degree in accounting and her prior work experience includes thirteen years for the insurance giant State Farm in both information technology and enterprise performance management. Utilizing her expertise in business analytics and strategic planning, Tammy frequently consults on various real estate related projects. Her love of family and real estate is demonstrated by her drive to help others understand the market and to make informed decisions. She currently holds the Certified Relocation Professional (CRP) designation.
For more information on Crowne Realty LLC, visit http://www.crownerealty.com or call +1 309 863-5015.
###
About Crowne Realty LLC
Crowne Realty LLC (http://www.CrowneRealty.com) is a progressive full service real estate company that has been a recognized and trusted leader in real estate since 2000, proudly serving Bloomington/Normal and surrounding communities. The company specializes in the buying and selling of real estate both residential and commercial. Crowne Realty also assists sellers and buyers with Foreclosure and Short Sale properties. Other services offered include alternative listing options ranging from a hybrid flat fee to military assistance programs. The company produced over 400 home sale transactions valued at $72 million in 2013. Crowne Realty LLC is the largest locally-branded real estate firm in Mclean County and surrounding areas.
About Leading Real Estate Companies of the World®
Leading Real Estate Companies of the World® (http://www.LeadingRE.com) is the largest network of top independent local and regional brand-name brokerage firms in the residential sector of real estate. The 500+ firms affiliated with Leading Real Estate Companies of the World® are represented by 4,000 offices and 120,000 associates in more than 40 countries worldwide. Collectively, network members produced over one million annual home sale transactions.