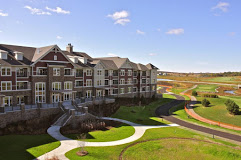 'We want to have fun in this phase of our lives,' said Judie. 'We've started a new phase. We couldn't be happier.'
Chicago, IL (PRWEB) March 13, 2014
Just this week GreenFields of Geneva hosted a Senior Living Seminar to help people navigate through the wealth of information available about senior living options today. From downsizing to cost of care, the seminar was an informative and casual way to learn the important facts to help people make the right decision about their future.
Bob and Judie Knott understand all too well about these types of important decisions, and about the benefits of living at GreenFields of Geneva. Despite the challenges of downsizing, they ultimately found the process to be freeing. "When we were getting ready to pack, I had to touch everything and pack everything," said Judie. "But it's a cleansing feeling to get rid of all of the s-t-u-f-f that you've collected and collected and collected. You get down to what ties you emotionally to family and friends and that's what you keep, and you don't keep the other stuff."
Judie and Bob Knott were among the first residents to move into GreenFields of Geneva, a senior living community in Geneva, Illinois, when it opened two years ago. They moved from their home in Mill Creek, the adjoining subdivision, staying within their neighborhood that they loved. Both are natives of Fox Valley and the high school sweethearts have celebrated their 50th anniversary together. After having taken care of their elderly parents for fifteen years, the Knotts said that as they decided that as they age they want to give their kids "the freedom of their own lives. It was our choice to move here, not theirs," said Judie. "The end result is that they're happy and we're happy."
While the decision to move to GreenFields was easy, the idea of moving from a 4000 square foot house to one that's 1155 square feet was more daunting; especially when it came to deciding what they'd bring with them to their new home. As avid travelers, they had collections of items purchased from their many trips. "We took pictures of some of these collections because we can always look at the photos and enjoy them. Then we distributed the items to our family. It's nice that we're able to see them enjoy them," said Judie.
Although they have a gorgeous kitchen in their new home in GreenFields, it's all for show. With the great dining venues at GreenFields, all of their meals are provided for them. "When we decided to move, I knew that I didn't plan to cook for the rest of my life. I got rid of all of my china and crystal. I haven't cooked a meal in two years, and I don't need to grocery shop," said Judie. "This is living."
Judie and Bob did keep some of their more treasured items. "Five sets of golf clubs. These were Bob's sentimental keeps," said Judie. "I kept some porcelain birds, a grandfather clock and a curio cabinet….And a koi pond." The Knotts had a koi pond in their yard of their home and it was beloved by Judie. When they moved she helped the new homeowners learn how to care for it, and was a bit sad to leave it behind. Judie's daughter-in-law bought a beautiful rug hand-painted with a koi pond, which they proudly keep on their balcony during the summer months.
The Knotts said that during the process of their downsizing and move, they had a lot of professional help from Nanette Falcone, GreenFields' move-in coordinator who made sure that the transition went smoothly.
Although the Knotts have technically downsized, their home has in some ways actually grown. "Our private area is 1155 square feet but the entire building is truly our home, and that includes two dining venues, a fitness center, game room with pool table, creative arts room, library and salon," Judie said.
The couple is delighted to be living at GreenFields. "We want to have fun in this phase of our lives," said Judie. "We've started a new phase. We couldn't be happier."
Today, as the midwest begins to thaw from a torrential winter, the Knotts appreciate their decision to move to GreenFields of Geneva even more. Without the hassles of constant shoveling and home maintenance, they enjoy a much more worrisome lifestyle.
"Moving here added ten years to our lives," said Bob.
GreenFields is an exceptional LifeCare community offering an ideal location, a retirement lifestyle you'll love, and the most comprehensive plan available for long-term care if ever needed. Sponsored by Friendship Senior Options, GreenFields is a sister community to Friendship Village, the largest retirement community in Illinois and the first to become accredited. GreenFields is located at 0N801 Friendship Way in Geneva. For additional information, visit http://www.GreenFieldsOfGeneva.org.