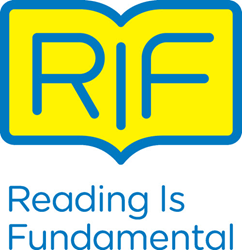 Washington, DC (PRWEB) March 07, 2014
Reading Is Fundamental (RIF), the nation's largest children's literacy organization, is proud to announce the three recipients of the 2014 Anne Hazard Richardson RIF Volunteer of the Year Award - Mary Ellen Cravotta of Fort Bragg, North Carolina; Ramon Gonzalez of New York, New York; and JoEllen Leech of Pittsburgh, Pennsylvania.
"The three remarkable volunteers that we have chosen to recognize this year exemplify the message and the mission of Reading is Fundamental," said Carol H. Rasco, President and CEO of RIF. "Across the nation, people like Mary Ellen, Ramon, and JoEllen - who devote their time and energy to giving books to children and making reading fun - are the heart of our work. Their dedication creates opportunities for children in underserved communities to experience the excitement that comes from discovering a favorite book or finding new worlds, and lays the foundation for success in school and beyond."
The 2014 Anne Hazard Richardson Volunteer of the Year Award winners will be recognized during RIF's The Cat in the Hat Gala in Washington, D.C., April 24. For more information about RIF's Gala, visit http://www.rif.org/gala.
Brief stories describing each volunteer's support in their community follow:
Mary Ellen Cravotta, Fort Bragg, North Carolina:
Mary Ellen Cravotta, an Elementary Librarian at Irwin Intermediate School, knows how to make RIF events magical and memorable by involving the entire school community - students, teachers, parents, soldiers, and commanders.
"Most children have had a parent deployed multiple times," says Mary Ellen. "Any way we can make these children feel special is really phenomenal."
Her RIF events always stress the importance of literacy and are a unique blend of community involvement and star power that prompt thank you notes from the heart. "Please come back, RIF. This day was better than Christmas," one student wrote after basketball legend Kareem Abdul Jabbar visited the school during a special RIF day to read his newest book, Sasquatch in the Paint.
At another RIF event, award-winning author Kelly Starling Lyons mesmerized students with readings, songs, and verse. Each student received a personally autographed copy of a Lyons book.
Says Mary Ellen: "RIF helps kids realize books are great, that they make all the difference in their world. My mission is to build a culture of reading with children and parents. In order to do that, I need lots of exciting reading activities. RIF has just been perfect for that."
Ramon Gonzalez, New York, New York:
Ramon Gonzalez has loved RIF since he was seven years old. That's when he appeared in one of the first RIF public service announcements, helped collect 1,000 pounds of aluminum to raise money to buy books, and even carried box after box of RIF books up to the RIF Room to open and set up for distributions.
Now, nearly four decades later, his passion to nurture young readers has led to his current position as assistant director of the Education Clinic at St. Aloysius in Harlem, where Ramon helps serve 2000 children in seven different schools and a summer program.
Ramon is an inspiring figure because he carries the RIF mandate in his heart. He remembers summer reading days filled with dozens of storybook characters that delighted his imagination, and says he feels that joy whenever kids make their book selections at RIF events.
"That's why I've kept my RIF books," says Ramon, who still treasures childhood copies of Curious George (including the safari hat), Ferdinand and Dr. Seuss books. "It's part of my history, part of my growing up."
Now, he's sharing the gift of reading with his children and continues to build a legacy of literacy and learning through the Education Clinic and RIF.
"We are improving the greater Harlem community," says Ramon. "Those who couldn't read can now read. Kids we give books to tell us they want to stay in school and succeed. It definitely is a win."
JoEllen Leech, Pittsburgh, Pennsylvania:
When JoEllen Leech joined RIF Pittsburgh in 2010, the organization had just adopted two programs after the close of another local children's literacy group. It was JoEllen's hard work, inspiration, and leadership that brought new life to those initiatives, and has since led to their success: more books and literacy activities for more children.
"We get hugs and happiness . . . the light in their eyes when they see us come. It's a life-changing experience," says JoEllen, formerly Vice President of Corporate Affairs for Mellon Financial Corporation.She joined RIF in 2010 after her three kids were grown and she started thinking about her "next" career. JoEllen started with restructuring Storymobile, a library-on-wheels program that brings books and literacy resources to early childhood centers and housing communities. She went on to establish additional RIF sites to serve more children and families in Pittsburgh. Now, as volunteer recruitment coordinator, she has rallied 80 new literacy mentors that serve over 200 children.
"Having an opportunity to help children become readers really speaks to me," she says. "Many of the children that we serve don't have books at home. Their parents may be too busy working several jobs or not have the time to provide extra reading time. That's something that, as caring adults, we can do for them."
About Reading Is Fundamental (RIF)
Reading Is Fundamental delivers free books and literacy resources to children and families in underserved communities in the United States. By giving children the opportunity to own a book, RIF inspires them to become lifelong readers and achieve their full potential. As the nation's largest children's literacy nonprofit, RIF has placed 400 million books in the hands of more than 35 million children since it was established in 1966. Learn more and help provide books to kids who need them most, visit RIF.org.