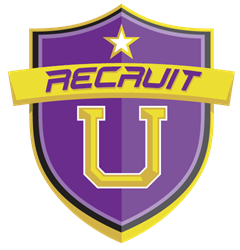 "RecruitU is a game changer which ensures the perfect recruiting marriage of athlete, college and coach." - George White
Denver, CO (PRWEB) March 11, 2014
RecruitU, a new iPhone application designed to assist student athletes in their college decision making and recruiting process, is live in the App Store.
RecruitU provides high school and junior college student athletes with a college selection and matching tool that enables athletes to input relevant information and receive a resulting list of colleges that represent an ideal fit for their profile. The App also provides information on each college, including location, enrollment, conference affiliation, tuition, and more. Finally, the RecruitU App enables students and their parents to connect directly with the coaches at each selected school via their personal email.
George White, developer of RecruitU and former college coach and athlete had this to say about the need this app fulfils in the college recruiting process, "In order to pursue their dreams of playing at the college level, I am constantly approached by athletes and parents with questions about the recruiting process such as, 'What do I do? Where do I start? Which schools should I target? How do I go about getting a coach's attention?'
In order to resolve this need, we developed our RecruitU App to be the powerful solution to getting athletes and parents on the fast track in this process. We structured RecruitU to address this big pain point by eliminating confusion as athletes and parents begin the recruiting process. RecruitU utilizes a one-of-a kind robust platform to focus them on ideal schools, which match their academic and athletic profile and immediately connect them with coaches at these schools.
For college coaches, RecruitU provides an expanded pool of student athletes that meet their criteria along with the key info and video access to enable them to evaluate and contact these athletes.
RecruitU is a game changer which ensures the perfect recruiting marriage of athlete, college and coach."
RecruitU's database includes the contact info for the coaches of every college and sport, allowing student athletes to directly email the coaching staff of matching schools. A personalized email template, that includes the individual student athlete's key info and video, is created in the App to assist in making a compelling introduction to coaches. The RecruitU iPhone App was designed by college coaching experts to help high school athletes, and their parents, find the right college, get recruited and secure a scholarship.
---------
Recruiting Sports Network (RSN) is a Denver, Colorado based college recruiting company and creator of the RecruitU App. Founded by a former college head coach and administrator, RSN has developed a number of tools, systems and processes to make the recruiting process easier and understandable for high school student athletes and their parents.