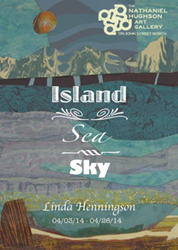 Hamilton, ON (PRWEB) March 16, 2014
The Nathaniel Hughson Gallery proudly presents its first showing of work by a British Columbia artist, Linda Henningson.
Island Sea Sky, a series of collages inspired by life on her home on Texada Island, 150 km north of Vancouver, will be on display from April 3 to April 26, 2014.
Linda Henningson's colourful and flowing collages were inspired by a meeting of chance with Canadian Artist Alan Wood, most famous for his outdoor environmental work "Ranch". Her materials are her own repurposed paintings. Highly textured shapes and rich colors are given new life in the form of islands, sea and sky. "A sense of the magical and otherworldly permeates the work and echoes my experience of life here."
Linda Henningson, graduated from Emily Carr University of Art and Design with a bachelor of arts in 2006. Since then her work has been exhibited at the Toronto International Art Fair, The New York City Affordable Art Fair and in various group shows in Kelowna and Vancouver. This is her first solo show outside of British Columbia. Linda is a recipient of the Canada Millennium Award of Excellence in 2004 and has had her work featured on the set of the Marilyn Denis show in 2011.
Opening Reception – Artist in Attendance Friday April 11, 2014 7- 10pm.
About the Nathaniel Hughson Gallery:
The Nathaniel Hughson Art Gallery on John Street North opened its doors in September 2012. The commercial gallery is dedicated to representing contemporary Ontario artists in their early and mid careers and is a destination for anyone looking for something unique to add to their collection
-30-
Gallery Hours:
Thursday:12-7 Friday 12-8 Saturday 12-5
Sunday to Wednesday by appointment
The Nathaniel Hughson Gallery is located at:
27 John Street North
Hamilton, Ontario, L8R 1H1
Phone 905.923.1192
Email info(at)nathanielhughsongallery(dot)com