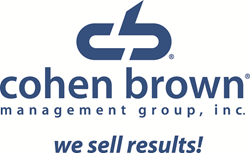 Cohen Brown demonstrates a commitment to innovation and a focus on providing their clients sustained improvement in performance
Los Angeles, CA (PRWEB) March 11, 2014
Cohen Brown Management Group, Inc., a global leader in sales and service training, sales and service management and leadership training, and culture and behavior change, has been named one of the Top Sales Training Companies to watch by TrainingIndustry.com. "It is truly an honor to be included in the Sales Training Companies Watch List," said Edward G. Brown, President and Co-Chairman. "We take pride in working closely with our clients to evoke permanent behavior change that leads to long-term sustainable results. It is imperative for leaders in organizations to embrace behavior change as it is the foundation for longevity and success." Mr. Brown, along with his partner, Martin L. Cohen, M.D., and their team of results consultants led by James Bywater, Executive Vice President and Managing Director, are truly elated by the acknowledgement by TrainingIndustry.com.
Cohen Brown is recognized for the following:

Extensive library of leader-led courseware designed to transform organizations from the top down
Courseware that develops a strong sales-and-service culture.
Courseware customized for each business unit and delivery channel.
Virtual delivery options for training.
Leader-led, management supported approach to maximize accountability.
Full-management process that is supported by results consulting, training and performance coaching.
Results which typically include increase in share of wallet, market share, and client retention.
Cohen Brown's newest program, Structured Time and Workflow Management (STWM), is providing organizations "how to" solutions to eliminate workplace interruptions and increase productivity. Learn more about STWM and register for a free webinar at http://www.stwm.com/webinar.
Increasing Cross-Sales at New Account Openings (NAO's) with Brand New Customers (The NAO Process) is one of Cohen Brown's blended solutions for behavioral change that results in dramatically increased sales of products and services at the new account opening. The NAO Process is one example of our customer-centric technologies in sales and service support.
"Innovation and delivery methods are critical to the long-term success of any sales training program. Cohen Brown demonstrates a commitment to innovation and a focus on providing their clients sustained improvement in performance," said Ken Taylor, Chief Operating Officer, Training Industry, Inc.
About Cohen Brown
For more than 30 years, Cohen Brown has earned acclaim for providing organizations dramatic and profitable bottom-line results with solutions that increase and sustain key behavioral skills. Our internationally recognized training programs—which include behavioral embedding, sales leadership and management, sales, service, structured time and workflow management, motivation, effective communication, and performance coaching—have been customized and proven to be effective in a variety of industries. Our consulting services and courseware build upon existing organizational cultures and surpass the highest sales-and-service expectations.
About Training Industry, Inc.
TrainingIndustry.com spotlights the latest news, articles, case studies and best practices within the training industry. Our focus is on helping dedicated business and training professionals get the information, insight and tools needed to more effectively manage the business of learning.