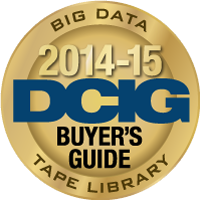 There are many that may believe that tape is dead, and they are sorely mistaken.
Austin, Texas (PRWEB) March 07, 2014
Several years ago at a crowded end user focused conference, the latest tape library innovation was unveiled from behind a waterfall curtain and throngs of attendees rushed the stage to catch a glimpse. Fast forward to today, and in spite of what some disk suppliers have been saying, tape is still necessary and projected to grow as the need for data storage capacity expands in the new Big Data era.
Tape storage has long had notable advantages such as reliability, security and inherent cost savings, and with the release of the 2014-15 Big Data Tape Storage Buyer's Guide, it is new and emerging innovations around hardware encryption, partitioning technologies, REST (Representational State Transfer) APIs and secondary cloud storage that are making tape more attractive to end users than ever before.
"There are many that may believe that tape is dead, and they are sorely mistaken," said Jerome Wendt, president and lead analyst, DCIG, LLC. "Tape storage continues to shine for data at rest, and long term data availability continues to keep tape not just appealing but viable. The newest DCIG 2014-15 Big Data Tape Library Buyer's Guide is the ideal tape library resource available in the market, and represents all the significant solutions. Like our other Buyer's Guides, this one will be an indispensable aid for users looking to eliminate unnecessary research cycles and quickly find a tape library that best meets their unique needs."
For the DCIG 2014-15 Big Data Tape Library Buyer's Guide, DCIG, LLC evaluates more than 40 offerings from 8 companies. After an initial survey containing more than 100 questions was completed, product capabilities were assessed based on data provided by the vendor, prior DCIG research, and information available in the public domain. Products were then evaluated on more than 80 features. After scores were compiled, products were ranked "Best-in-Class," "Recommended," "Excellent," "Good," or "Basic" across functionality and capability relative to the other products included in the Buyer's Guide.
The intent for this Buyer's Guide, as with all DCIG Buyer's Guides, is to provide an "at-a-glance" comparison from which end users can select the most appropriate solution for their existing needs. This Buyer's Guide also provides perspective on how solutions from less well known tape library providers compare against established and better known brands.
The DCIG 2014-15 Big Data Tape Library Buyer's Guide Top 10 solutions include (in alphabetical order): HP StorEver ESL G3 700 slot, 1500 slot, 3000 Slot, 5000 Slot, HP StorEver MSL6480; IBM TS3500; Oracle StorageTek SL3000, SL8500; Spectra Logic T-Finity, T-950.
The Oracle StorageTek SL8500 is truly a Big Data offering, designed to handle in excess of 2 Exabytes of compressed data. To handle all that data, the Oracle StorageTek SL8500 supports 10GbE and Fibre Channel (FC) for network connectivity, high availability (HA) features, Active –Active I/O controllers, REST object storage and tape drive virtualization earning the "Best-in-Class" distinction in this Buyer's Guide. The Oracle StorageTek SL8500 stood out in the following ways from other tape libraries listed in the Buyer's Guide:

Scales to over 2 EB of data (compressed)
Scales to hundreds of drives and over one hundred thousand tape cartridges
Supports the majority of backup and archive software packages available on the market today
Supports 10Gb Ethernet
Offers REST APIs
Offers tape virtualization
The DCIG 2014-15 Big Data Tape Library Guide achieves the following objectives:
Provides an objective, third party evaluation of tape libraries that evaluates and scores their features from an end user's perspective
Scores and ranks features on each tape library based on criteria that matter most to end users
Provides a standardized data sheet for each of the tape libraries so users may do quick side-by-side comparisons of products
Provides insights into what features on a tape library will result in improved availability and increased storage capacities
Provides insight into which tape libraries are supported by popular archiving and backup software products
Gives any organization a solid foundation for getting competitive bids from different providers that are based on "apples-to-apples" comparisons
"With nearly one out of every four models surveyed in the Buyer's Guide supporting the ability to store data directly to tape using REST, and nine models supporting the ability to store data to secondary cloud storage, the combination offers a significant step forward for tape storage," added Wendt. "We know our latest Buyer's Guide will help end users cut both cost and time from the evaluation and purchase process as they look for solutions to best meet their long term archive, storage and secondary storage needs in a cost-effective way."
Disclosure and Methodology
DCIG identified 8 companies that provide big data tape libraries, regardless of cost. Each tape library had to meet the following criteria:
Support a minimum of 24 tape drive cartridge slots
Support at least two tape drives
Support LTO-4 or later technology
Sufficient information available for DCIG to make meaningful decisions
Shipping by October 31, 2013
No vendors, whether clients or not, were afforded preferential treatment in the Buyer's Guide. All research was based upon information provided directly by vendors, research and analysis by DCIG and other publicly available information.
It is worth noting that each Buyer's Guide is not intended to be a substitute for internal testing. DCIG encourages any organization that is considering the purchase of any solution included in a Buyer's Guide to do its own in-house testing.
Availability
The DCIG 2014-15 Big Data Tape Library Guide is available immediately and may be downloaded for no charge with registration at the following http://dcigbuyersguides.com/.
Resources:
DCIG Blog: http://www.dcig.com
About DCIG
DCIG is a group of analysts with IT industry expertise who provide informed, insightful, third party analysis and commentary on IT hardware, software and services.
DCIG independently develops and licenses access to DCIG Buyer's Guides. DCIG Buyer's Guides provide actionable intelligence through comprehensive, in-depth analysis of data center infrastructure product features. DCIG also develops sponsored content in the form of blog entries, case studies, product reviews, special reports and executive, standard and full-length white papers.
DCIG's target audiences include C-level executives, IT managers, systems and storage engineers and architects, press/media, magazine and website editors, bloggers, financial and technical analysts, and cloud service providers.