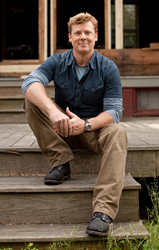 Denver, Colorado (PRWEB) March 07, 2014
The Denver Home Show opens its doors on March 14–16 at the National Western Complex to showcase home improvement, design, and construction under one roof. The Denver Home Show welcomes two well-known celebrity guests, local home improvement and design experts, a lineup of informative seminars, an Ask a Designer feature, and much more.
Kevin O'Connor, host of This Old House and Ask This Old House on PBS, will share insider tips and tricks for tackling the toughest home improvement projects during his seminars on Friday, March 14 and Saturday, March 15.
Prior to his television debut, while renovating his first home, O'Connor encountered a few unforeseen problems and sought the help of Ask This Old House experts. Tom Silva, general contractor on PBS's This Old House and Ask This Old House, arrived at O'Connor's doorstep to lend his expertise and assistance. Months after his guest appearance, the This Old House team contacted O'Connor to offer a hosting position on the show. O'Connor quickly made the transition from financial expert to Emmy Award-nominated television host and is now in his tenth year of hosting.
Josh Flagg of Bravo TV's Million Dollar Listing Los Angeles will discuss his experience in high-end residential real estate and the best ways everyday homeowners can boost home value. Flagg takes the stage on Saturday, March 15 and Sunday, March 16.
After high school graduation, Flagg decided to jump into high-end residential real estate, proving to be a successful career move within the first four years. Celebrating ten years in real estate, Flagg remains at the top of the market by understanding his clients' needs and consistently exceeding them.
In addition to the celebrity guests, the Denver Home Show presents hundreds of local home improvement and design companies, including the Ask a Designer feature and IKEA demonstrations. Inside the Ask a Designer booth, Home Show guests will have the opportunity to ask an expert about personal home design projects.
The Denver Home Show
When: Friday, March 14 10 a.m.–9 p.m.
Saturday, March 15 10 a.m.–9 p.m.
Sunday, March 16 10 a.m.–5 p.m.
Where: National Western Complex
4655 Humboldt Street
Denver, Colorado
Admission: Adults $11
Seniors $8
Children ages 12 & under Free
Hero Day
To thank the military for their service and sacrifice, the Denver Home Show will offer FREE admission on Friday, March 14 to anyone currently in the military, fire department, or police force in observance of "Hero Day." A valid service ID must be presented at the show office to receive complimentary admission on Friday.
For more information: http://www.homeshowdenver.com
Vendor Highlights
One Clear Choice:
One Clear Choice is a full-service CO garage door repair and replacement company. Our service areas include metro Denver area and surrounding suburbs and all areas to Colorado Springs and Fort Collins. Whether our clients need immediate assistance with broken garage doors, or they are thinking about replacing an old garage door, our team is ready for assistance. One Clear Choice will be in booth 1953 at the Denver Home Show. For more information, please call 303-565-6409.
Hidden Doors by Design:
Hidden Doors by Design installs meticulously crafted hidden door bookcases into the doorways in a home. We build in-swing and out-swing hidden door bookcases in a variety of sizes and hardwoods with optional trims, drawers, and cabinet doors. Installation is available in the Denver metro area and our products can be shipped nationwide. For more information, please call 866-530-0003.
###