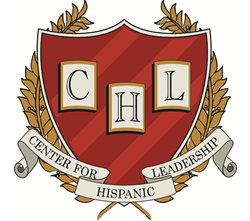 ERG members must become thought leaders and their voices must be given the opportunity to be heard to help cultivate business innovation and growth opportunities, but first they must discover their brand as a leader.
Los Angeles, California (PRWEB) March 06, 2014
With almost 90 percent of Fortune 500 companies having employee resource groups (ERGs), increasingly the roles and responsibilities of these groups in organizations must transition from social networks to think-tank type groups that directly impact the business. In an effort to enable these groups to become a powerful platform for advancement, the Center for Hispanic Leadership (CHL) is offering an exclusive high-impact two-day training for Hispanic professionals, sponsored by New York Life, on March 17-18 at City of Hope in Duarte, California.
"This training is an opportunity for professionals to awaken their Hispanic factor and leverage their cultural values as sources of strength that will define the new ground-rules for the 21st century workplace including the workforce, clients, and consumers," says Glenn Llopis, CHL CEO/Founder, Forbes business leadership contributing writer and go-to-authority on Hispanics. "ERG members must become thought leaders and their voices must be given the opportunity to be heard to help cultivate business innovation and growth opportunities but first they must discover their brand as a leader."
Beyond the call of duty to impact and influence organizational business goals, ERGs must remain continually focused on building a talent pipeline, increasing representation and inclusiveness (that includes expanding the role of executive sponsors), and advancing their employer of choice efforts. To address these issues and others, ERGs are now being utilized to advance affinity awareness and best practices via cross-collaboration amongst ERGs within the organizations they serve and externally with other organizations so that collectively and together ERGs can advance their goals and objectives. Adds Llopis, who will facilitate the CHL March workshop – the first of many workshops slated for this year around the country, "ERG members must serve as the cultural competency engine to fuel better intelligence for the executive team who may not always be as informed as they should be. Groups that serve only as social networks will do little to strengthen the voices and identities of those who must represent the leadership of America's future."
Since Hispanics will comprise 18 percent of the labor force by 2018, corporations will need to better prepare Hispanics, especially ERG members, with culturally-relevant education and training in order to increase the talent pipeline of Hispanic employees. Major corporations, that have both sponsored past CHL workshops and also sent their high-potential Hispanic employees to the trainings, have witnessed first-hand the ROI from workshop graduates. According to CHL post evaluations, corporations report that Hispanic employee workplace engagement increased by more than 70 percent and that Hispanic employee retention rates increased by 69 percent post workshop.
In support of continuing to successfully train Hispanic professionals to reach their professional goals for themselves and their companies, New York Life leads by example by sponsoring the March workshop. "New York Life is pleased to champion the professional development and advancement of Hispanic talent by sponsoring the CHL workshop," says Joanne Rodgers, Vice President and Chief Diversity Officer, New York Life.
During the CHL workshop, which will provide more than 20-hours of in-person and pre-work instruction, participants will learn how to harness their cultural roots as a source of strength for career advancement. Adds Llopis, "Hispanic professionals need to understand that by being authentic to their true identities they will unleash their hidden potential – yielding great success for themselves and the corporations they work for."
Workshop slots are still available; however, registration closes tomorrow, Friday, March 7th. If interested in attending the workshop, please contact Annette Prieto-Llopis at APrieto(at)centerforhispanicleadership(dot)com or 949-387-2609.
CHL Two-Day Workshop Program – Los Angeles
March 17 – 18, 2014
8:30am – 5:30pm
City of Hope
Platt Center, Room #3
1500 East Duarte Road
Duarte, CA 91010
Cost: $2,500 per participant (corporate sponsorship available)
Workshop Materials Include: books, self-evaluation, and assessments
Attire: Business Casual
Breakfast, snacks, and lunch will be served.
Enrollment closes: March 7, 2014
About Center for Hispanic Leadership
CHL is a nationally recognized thought-leadership, human capital, and business strategy consulting firm whose product and service offerings for Fortune 500 and 1000 clients as well as entrepreneurs include leadership and talent development, cultural competency, career advancement, marketing to Hispanic consumers, business strategy and modeling, and workplace culture transformation.
CHL's extensive library of culturally-relevant content includes published books, ebooks, whitepapers, blogs, etc. that has been featured on hundreds of trade publications, online magazines and nationally syndicated television and radio shows. CHL clients represent best-in-class organizations across multiple industries. For more information, please visit http://www.CenterforHispanicLeadership.com.