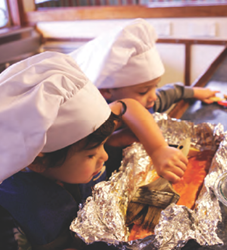 Juneau, AK (PRWEB) March 11, 2014
The Alaska Seafood Marketing Institute (ASMI) has partnered with some of Alaska's own pint-sized chefs (ages 5 to 16) to produce Alaska Style Recipes For Kids, a children's cookbook that shares delicious and fun ways to prepare seafood for kids and adults alike.
It's a fact: kids love to help in the kitchen. Involving kids at an early age makes for fun memories and paves the path for a lifetime of healthy eating. When it comes to seafood, however, it can be a challenge to get kids to eat more than the average fish stick.
This can be problematic, because many children (and adults) aren't getting the USDA-recommended two servings of seafood per week. With the omega-3s needed for growing brains and vitamin-D for strong bones, wild Alaska seafood is the perfect fuel for active kids.
With this new e-cookbook, ASMI aims to tackle some of these issues by using healthy Alaska seafood in some comfort food favorites. For instance, canned salmon is swapped for tuna in Wild Alaska Salmon, Chive and Cheddar Grills and mild cod replaces chicken in Buffalo Alaska Cod Quesadillas. These recipes highlight seafood varieties that are mild in flavor and also easy on the wallet, ideal for young chefs who are perfecting their taste preferences and techniques.
ASMI has made this e-cookbook available for free download at http://www.wildalaskaflavor.com/ecookbooks.
ASMI can also be found on Facebook at http://www.facebook.com/alaskaseafood.
About Alaska Seafood
The Alaska Seafood Marketing Institute (ASMI) is a partnership of the State of Alaska and the Alaska seafood industry. ASMI works to promote the benefits of wild and sustainable Alaska seafood and offer seafood industry education.
For more than 50 years, Alaska has been dedicated to sustainable seafood. It's so essential to our way of life that our constitution mandates that fish are "utilized, developed and maintained on the sustained yield principle." The seafood industry is Alaska's largest private sector employer, and as a result, Alaskans understand the need to protect the fisheries and surrounding habitats for future generations. We're proud of our leadership in sustainable management, which has led to an ever-replenishing supply of wild seafood for markets around the world. For more information, please visit http://www.alaskaseafood.org.