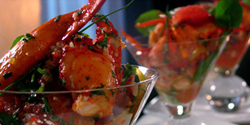 (PRWEB) March 07, 2014
As the NCAA prepares for "Round One" of the 2014 men's basketball tournaments, the folks at GetMaineLobster.com have scouted through their extensive list of Maine lobster and seafood recipes and recruited the top 15 options for the nation's March Madness Munchies.
1. Surf & Turf Lettuce Wraps
Easy to make and a delight to eat, these delicious wraps combine lobster, filet mignon, onions, red pepper, Boston Bib lettuce and a soy orange citrus sauce to make one of GML's most popular finger food meals.
2. Lobster Tail Salsa
What says "big game" in three simple words? Beer, salsa and lobster! According to GML Chef Mac Arrington, this simple recipe is an epic combination that will "be better than any commercial shown on game day."
3. March Madness Lobster, Bacon, Tarragon Aioli Burgers
Here is a way to get into the game and party—lobster burgers! The fresh, smooth lobster burgers will benefit from a little char off the grill that comes from the sweet scallops. Paired with herb mayo and a soft toasted brioche bun, this hearty indulgence (feel free to add a slice of gruyere!) is a slam dunk.
4. Creamy Garlic Lobster Dip
This recipe is a play on the richness of Lobster Newburg. Its creamy seafood base is cut with sherry and finished with buttery lobster – a perfect dip to eat on crunchy herb toast points.
5. Dreamy Lobster Chunk Cheese Fondue
This recipe recaptures all of the fun memories of sharing a great party food, great stories, and a lot of laughter, but with a new twist – Maine lobster.
6. Seared Scallops Over a Parmesan Crisp with Boursin Cheese
This game-changer is a fan-favorite recipe, delivering GML's to-die-for Fresh Maine Diver Scallops.
7. Get Maine Lobster Shooters
This quick, intense recipe featuring lobster tails, lobster claws, unsalted butter, large garlic cloves and the juice of 2 fresh lemons will step things up in a big way!
8. Lobster Crostini Melts
If anything can jump start a dinner, it's Maine lobster. Add garlic, sherry and tarragon, smeared generously over fresh crostini.
9. Grilled Lobster & Cheese Mini Sandwiches
This recipe, including Maine lobster, havarti cheese and sourdough bread, is an ally-oop for the taste buds. The only thing more impressive than its taste is how easy it is to prepare.
10. Maine Lobster and Corn Fritters with Quick Pickled Cucumber
This is a great way to use ingredients lying around the kitchen to make a very sweet and savory appetizer. Score!
11. Fresh Maine Crab Sliders
Mainers love their Jonah crabs as much as any other region touts theirs. When September rolls around, the anticipation for the fresh, smooth, pearl-like meat launches a movement among restaurant owners offering feasts of their favorite crab dishes. This crab slider recipe mimics the kind of rich pub sandwich seen at favorite Maine crab shacks every year.
12. Get Maine Lobster BLT Tailgate Roll
In this recipe, the natural sweetness of lobster is complemented by the maple flavor and the smokiness within the whiskey. Perfect for a tailgate party!
13. Lobster Pizza
A special occasion rendition of a classic, this pizza combines lobster, tomato, garlic, shallot, basil and ricotta cheese.
14. Bacon-wrapped Maple Lobster
In a combination that can only be called the "Dream Team," this recipe features Lobster tail, apple wood smoked bacon sliced cut in half, and maple syrup to taste.
15. Lobster Cakes with a Citrus Aioli
Finally, this recipe is a play on a recipe Chef Mac Arrington used in The Great American Seafood Cook-off in New Orleans. He shoots, he scores – he took 3rd place!
About GetMaineLobster.com:
GetMaineLobster.com, a division of Black Point Seafood and Black Point Gourmet, hand-selects the finest Maine lobster, seafood and beef products for convenient distribution throughout the United States. Their passion is to make fresh, quality seafood readily available to customers across the country, which is why they buy from only the most trusted, well-established suppliers to ensure that they receive the finest products available.
GetMaineLobster.com was selected out of the more than four million small American businesses served by Chase bank to represent its new Platinum Business Checking product for its 2013 national advertising campaign.