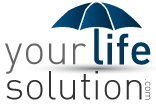 Many people intend to carry life insurance until their death regardless of how old they are when they perish, and they need to purchase coverage with this in mind
Chicago, IL (PRWEB) March 07, 2014
YourLifeSolution.com, a website which generates instant quotes on both permanent and term life insurance, is beginning a campaign to emphasize the necessity of permanent term life insurance for those who need to maintain coverage for life. "There's a consistent issue amongst people who have a term policy that has a guarantee that is about to expire. They want to replace it with essentially an identical product, but to do so often costs at least twice as much. If people intend to keep their coverage for life they would be far better off just buying permanent term life insurance and not having to reapply in the future," said Eric Smith, the founder of YourLifeSolution.com.
YourLifeSolution.com has recently added 'lifetime term' to the quote engine on their site and believes this will help consumers make a wiser decision about their current and future insurability. "Buy term and invest the difference is a fine strategy, assuming you don't keep buying term after term. Many people intend to carry life insurance until their death regardless of how old they are when they perish, and they need to purchase coverage with this in mind," said Eric Smith.
YourLifeSolution.com urges all consumers to view their instant life insurance quotes on their site. Those seeking assistance or information by phone can reach Eric Smith at 888.374.2764.