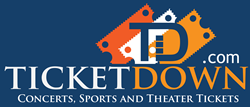 New York, NY (PRWEB) March 06, 2014
Ticket Down announces that one of the most popular alternative rock groups of the 2000s recently announced a new tour in 2014 featuring 30 Seconds to Mars and AFI. This group, Linkin Park, is one of the highest selling alternative groups in the history of United States music and is known for putting on a spectacular live show for their fans. When they take the stage as a part of the "Carnivores Tour" beginning in August, they will be playing packed venues around the United States and Canada.
For those unfamiliar with 30 Seconds to Mars, you would recognize the front man as Jared Leto, a recent Oscar Award winner for "Best Supporting Actor" for his role in Dallas Buyers Club. Jared, his brother Shannon and Tomo Miličević make up the group and have released four studio albums to date. Their debut album, 30 Seconds to Mars, was released in 2002 with critical acclaim, but without great sales in the United States. Their follow-up 2005 release, A Beautiful Lie, was a hit worldwide, selling more than 1.2 million copies in the States and more than four million copies worldwide. Their 2013 release, Love, Lust, Faith and Dreams, has also been met with great acclaim and fans will be excited to see them perform with Linkin Park.
Linkin Park burst onto the music scene in 2000 with Hybrid Theory. The album has been certified platinum by the Recording Industry Association of America for selling more than 10 million copies in the U.S. worldwide, the album has more than 27 million copies sold and was a top five album in dozens of countries. Their follow-up album was their first to reach the No. 1 spot on the Billboard 200 album charts. Meteora sold more than 16 million copies around the world and was their way of showing the world that they weren't a one-album hit.
Also joining these two mega-acts on the "Carnivores Tour" is AFI. AFI originally formed in 1991 and the current group members have been together since 1998. They have released nine albums since forming their group, including two certified platinum records. Their 2003 release, Sing the Sorrow, was the first to reach this status and their 2006 release, Decemberunderground also achieved the same status and became their first and only album to reach the top of the album charts in the United States.
The "Carnivores Tour" will take these three groups to many of the most popular venues around North America. When the tour kicks off on August 8th, they will play at the Cruzan Amphitheatre in West Palm Beach, FL; and will also travel to venues like the PNC Bank Arts Center in Holmdel, NJ; MTD Centre in Winnipeg, MB; Hollywood Bowl in Los Angeles, CA and U.S. Airways Center in Phoenix, AZ; before finishing off on September 19th at the Concord Pavilion in Concord, CA.
About TicketDown.com:
Ticket Down delivers tickets to sold out concerts and events worldwide when no one else can, and they do so at discounted prices. This popular ticket exchange also has 2014 Carnivores tour tickets and cheap concert tickets for all other worldwide events at great everyday low prices.