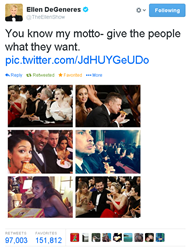 Aro and his brand were always involved with technology from the very start.
Burbank, CA (PRWEB) March 07, 2014
Big Mama's and Papa's Pizzeria will be forever remembered for their guest Oscar appearance thanks to Ellen DeGeneres. There are more people who walked on the moon than those who were enthroned with such an honor at the Oscars. As the pizza took center stage and was casually enjoyed by A-Listers such as Brad Pitt, Jennifer Lawrence, Harrison Ford, Meryl Streep, Julia Roberts and many more, Big Mama's & Papa's technology partner WebDivisor, located in Glendale CA, was tasked with cranking the machines to turn this big moment into one that would last a long time.
With very little time to react, WebDivisor's CEO Hayk Abramyan contacted Ararat "Aro" Agakhanyan, Big Mama's & Papa's Pizzeria franchise owner, in order to formulate a plan going forward after the pizza Oscars event. This type of exposure was never preplanned and was a surprise to both Abramyan and Agakhanyan. Within 30 minutes, all social media channels and websites were modified by WebDivisor in order to retain the precious leads of all interested fans and customers who came asking, "Where is the Oscar Pizza?"
In just a matter of days, WebDivisor says that Big Mama's and Papa's Facebook Likes had increased by over 12,000 people. The weekly total reach on Facebook surpassed the 3 million mark as there were more comments and likes than any team of moderators can vet at any given time. Facebook, Twitter and Instagram followers had doubled and Big Mama's and Papa's Pizzeria's first tweet was retweeted almost 600 times. Website traffic had surged by a record 100,000 visitors in less than 24 hours. Without the early adoption of technology by Big Mama's and Papa's Pizzeria, this type of online retention surely would not have been possible.
WebDivisor CEO Hayk Abramyan said, "Aro and his brand were always involved with technology from the very start." He went on to mention that instead of the traditional pizza flyers being delivered across the neighborhood, Aro Agakhanyan had a vision where the digital world would become their primary source for new sales and growth. Aro Agakhanyan had a burning desire to push the technology of the chain closer to the cutting edge and every online marketing tool disposable to the most seasoned reputation manager was available at Aro's fingertips.
Aro Agakhanyan has enjoyed a seven year relationship with WebDivisor. Since then, Big Mama's and Papa's online sales have increased by over 800% up until the Oscar moment thanks to Agakhanyan's adoption of technology early in the franchise process. WebDivisor's CEO Hayk Abramyan predicts that the Oscar exposure provided Big Mama's and Papa's the type of search engine optimization gold mine that money can never buy. Within a matter of days, BigMamasPizza.com had obtained over 6,900 back links from other websites with very high page ranks (a metrics used by Google to determine the quality of a website). These back links ultimately boost the search engine rankings of Big Mama's and Papa's and provide a sort of insurance policy for future growth, growth that Aro Agakhanyan can count on with his 20 existing locations and over 100 new franchisee applicants within the last four days.
Aro opened his first pizzeria in 1991 with Allen Agakhanyan when Aro was only 17 years old and Allen only 14. The pizzeria was called "Roselli's Pizza" which through the years was converted to Big Mama's & Papa's Pizzeria. Since then the company has grown to over 20 locations and has adopted technology such as text message marketing, e-mail marketing, Facebook, Twitter, Instagram, Youtube, Google Adwords, search engine optimization, custom franchisee management software and many more. Within moments all of those strategies came together like a choir in a concert hall to create an explosive moment that captured the hearts, minds and leads of the millions of interested pizza loving consumers.
Big Mama's and Papa's Pizzeria franchise headquarters is located in Burbank CA. For more information, please call franchise headquarters at (323) 661-2929 or visit http://www.bigmamaspizza.com.