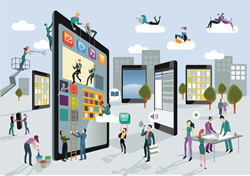 Oceanside, CA (PRWEB) March 06, 2014
Elearning! Media Group (EMG) announced today that Kendra Herlig will be the featured closing session speaker for the Enterprise Learning! Summit Virtual event on March 20th, 2014. Kendra Herlig is an Instructional Systems Designer who specializes in immersive learning, innovative learning, and game-based learning. She currently works as a learning consultant for Booz Allen Hamilton where she partners with government and commercial clients to implement innovative learning solutions. Her innovative e-learning products have won multiple awards
Booz Allen Hamilton's innovative Leadership Development team created an effective and large-scale board game, through which simulating leadership challenges helped leaders learn their strengths, weaknesses and better techniques for collaborating for success. This session explains the road that was taken to digitize a successful board game and the effectiveness of this endeavor.
Kerlig will dive into analyzing the benefits of digital games for leadership development; Understanding the process required to make an analog game a digital game; and, Harnessing ideas for successful games for leadership development.
Elearning! Media Group (EMG) is pleased to announce that they will offer learning professionals a free virtual pass to hear Jeanne's keynote address. To register for the free pass, please go to http://engage.vevent.com/index.jsp?eid=630&seid=2330.
About Elearning! Media Group
Elearning! and Government Elearning! magazines, e-Magazines, E-newsletters, Alerts, Web sites and Summits are produced by B2B Media Company, LLC. Elearning! magazine is one in the family of 12 media products serving the $220 billion enterprise learning market. In combination, these brands reach up to 2 million executives and professionals who plan, evaluate and deploy enterprise-wide learning solutions across their organizations each year. To learn more, visit: http://www.2elearning.com.
Enterprise Learning! Events
In our seventh year, Enterprise Learning! Events bring onsite and online live audiences together to learn, network and share. Enterprise Learning! Summit 2014 hosts industry thought leaders, analysts and up to nine sessions, on March 20th, 2014. http://engage.vevent.com/index.jsp?eid=630&seid=2330. Mark your calendar for Enterprise Learning! Conference & Expo, the exclusive learning and workplace technology marketplace, August 25-27, 2014 in Anaheim, CA. http://www.elceshow.com