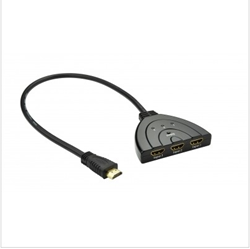 (PRWEB) March 07, 2014
Hiconn Electronics is a famous brand of practical electronics devices. Recently, the company has released its new collection of HDMI 3x1 Switches for the British market. Also, the company has launched a special offer for March, which is a great opportunity for customers who are looking for superb switches at low rates.
"As one of the most popular retailers, it is our obligation to facilitate distributors from all over the world. Thus, we launch special offer at times. The brand new HDMI 3x1 Switches are especially made for those from Britain. There are thousands of useful items offered at our online store, and I highly recommend these excellent designs: HDMI to VGA+R/L Audio converters, HDMI to Mini DisplayPort Cables and VGA+R/L Audio to HDMI Converters."
The following are some details of the HDMI 3x1 Switches provided by Hiconn Electronics:
--3 HDMI input,1 HDMI output
--No Power Cable Need
--Easy Select HDMI input. Just Press on "Select" button to choose sources
--Support 480p,720p,1080i,1080p and 1920x1200 frequency resolving ratio.
--Supports with HDMI 1.3b
--Automatic switching to latest powered on peripheral
--High performance up to 2.5Gbps
--Maintain high resolution video - beautiful, sharp HDTV resolutions up to 1080p., 2k, 1440p graphics and computer resolutions up to 1920x1200 are easily achieved
What's more, the company has updated its website, making it easier to navigate. Worldwide visitors can find what they need in an easy way now. In addition to the big savings, Hiconn Electronics also offers coupons for early buyers.
About Hiconn Electronics
Hiconn Electronics (Shenzhen Hiconn Electronics Co. Ltd.) is devoted to designing and manufacturing a wide range of connection cables and customized cable assemblies, offering many HDMI cables, VGA cables, SATA cables, USB cables, 1394 cables, DVI cables, SCSI (Small Computer System Interface) and more. For more information, please visit http://www.hiconn.net/.
Contact Person: James Yin (Sales Director)
Company Name: Shenzhen Hiconn Electronics Co., Ltd.
Address: Shenghua Building., Xixiang Road., Baoan District, Shenzhen, Guangdong Province, China
Zip Code: 518102
Tel: +86-755-8109 8345
Fax:+86-755-2779 3497