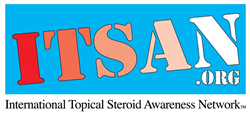 As a practicing physician, I am unaware of any score or index that allows a patient to track lifetime usage of corticosteroids", Dr. Parker said, "This will be a valuable tool for patients and doctors, not just for ITSAN
(PRWEB) March 12, 2014
ITSAN is excited to launch a first-of-its-kind survey for red skin syndrome sufferers to help them gauge their recovery time from corticosteroid addiction.
The survey was created by ITSAN board member Jim Parker, MD and reviewed by a Pharm.D. Once the survey is completed, an individual will get two scores and be able to apply a CoStEx score (corticosteroidexposure) and a WaR (Withdrawal and Recovery) score to their answers.
"As a practicing physician I am unaware of any score or index that allows a patient to track lifetime usage of corticosteroids," Dr. Parker said, "This will be a valuable tool for patients and doctors, not just for ITSAN."
The goal for these "scores" is that they can be used like other medical scores such as cholesterol, blood pressure, etc. With research, ITSAN hopes to be able to one day correlate the amount of corticosteroid usage with withdrawal time. Another benefit of the survey will be the individual's ability to show a doctor their lifetime exposure to corticosteroids and avoid over usage.
Since many experts believe all corticosteroid usage is cumulative, this will be of paramount importance for one's medical history. According to our Pharm.D., who specializes in such data, this would be the first such survey/index of its kind.
The non-profit organization is a little over two years old and works hard to raise awareness of topical steroid addiction and withdrawal since it started four years ago under a different name.
President Kelly Palace and board members have all suffered steroid-induced eczema and withdrawal or cared for a loved one who has endured the grueling process to recovery. One of the main questions asked by support group members is "how long will this healing process take?"
There are very few doctors who have studied the effects of overusing this potent drug but there are published studies to prove steroid-induced eczema and rosacea exists. ITSAN encourages members to share their website resources with medical providers to help raise awareness.
Too often, patients are not heard but even doctors who got addicted to topical steroids are joining the network support forum. One big problem was not having any kind of time frame to know how long a withdrawal from steroid addiction would take since each person's history varies.
CLICK HERE TO TAKE THE SURVEY. Your answers are confidential and will only be used to help raise awareness and find solutions for those suffering with TSA/W.