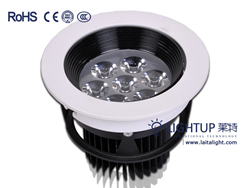 (PRWEB) March 07, 2014
Recently, LIGHTUP LED, a well-known LED ceiling light manufacturer and wholesaler, has announced its modern LED ceiling light collection. The business hopes to explore the international sales through reliable products and discounted delivery costs worldwide.
The LED lights from this company are well-known that they do as much as other top LED light brands on the market but they are offered at affordable prices. Now, the new LED ceiling lights are no exception. The sales manager of LIGHTUP LED explains that these products would be great for shopping malls, supermarkets, hotels, jewelry counters and high-end houses.
"Our LED ceiling lights are made from durable high quality materials, providing maximum benefits for our customers. Every year a large quantity of LED lights is sent out by us to the global buyers from China. If you want to get discounted LED ceiling lights from a reliable manufacturer, you can visit our website now," the sales manager says.
LIGHTUP LED has specially recommended one popular model (3W/4W LED Ceiling light) for its clients, and this model's specification is as follows:
-- Size: 98*68mm
-- Power: 3W/4W
-- Color: 3200K-6500K
-- Product Color: white/silver
-- Material: Aluminum
-- Working Temperature: -30°C~50°C
-- Working voltage: 12V/24V/110V/220V
-- Life Time: 50000 Hours
-- Coefficient of Heat Transfer: 45°-55°
In addition, the company is offering a great range of LED lights for its global customers, including LED digital hurdle lights, LED ceiling lights, LED ceiling panel lights, LED high power down lights and more. Its 5W/7W LED Ceiling light is actually very popular on the market.
About LIGHTUP LED
LIGHTUP LED (Zhongshan Guzhen LIGHTUP International Technology Co., Ltd.) is located in Guzhen, the "Silicon Valley" of China's LED industry. The company specializes in the R&D and manufacturing all types of LED lights and related products which are environmentally-friendly. They focus on customer service and competitive pricing, which continues to attract more customers from all over the world.
For more information about LIGHTUP LED and its products, please visit: http://www.laitalight.com/Products/led-ceiling-light.html.