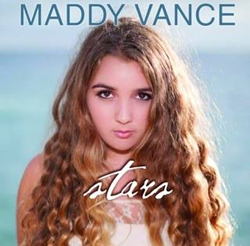 It's hard to believe that a child could put her feelings into a language that speaks to so many generations.
Orange County, California (PRWEB) March 10, 2014
At just 14-years-old, Indie Artist Maddy Vance is breaking down doors and bringing back braces. Though she has spent her early childhood battling a debilitating heart condition known as Supraventricular Tachycardia (SVT), it has not held her back from reaching for the "Stars". This rising teen pop artist has used her experiences to inspire hit song lyrics, and she is now ready to share her voice and her music with the world.
"Music has been a form of expression for Maddy since she was a child," comments her publicity team at DNT Entertainment. "Today she has successfully turned her pain into a prize, and is turning heads in the OC and LA music scene. Her captivating lyrics and humble being, draw audiences in and have them stuck to her words like glue."
For the past three years, Maddy has used her musical gift as a form of therapy and has become an incredible pianist, writer, vocalist and overall performer. Every lyric is heartfelt and honest. It's hard to believe that a child could put her feelings into a language that speaks to so many generations.
Maddy's first original EP was produced by Thomas Barsoe and Philip Halloun of The OC Hit Factory and Island Creations. Barsoe, an Award Winning Musician and Producer from Copenhagen Denmark, has collaborated on projects with many "A" list artists, and is best known for his Orange County songwriting camps music production studio "The OC Hit Factory". Maddy's EP was officially released on iTunes in the first quarter of 2014, and is quickly climbing its way onto the charts. The unwavering support of her family and her loyal fans, have lifted her off the ground and have helped her soar.
"Whatever you are going through in your life, just know that music will always be there for you, like it has for me," comments Vance.
Maddy's 5 song EP "Stars," features a ballad that she holds closest to her heart, "Heaven." Its lyrics paint a beautiful picture of her interpretation of love and it's power, and will have audiences and fellow writers in awe of a voice well beyond it's years.
Please visit http://www.maddyvance.com or download "Stars" on iTunes to witness for yourself this hidden gem.
Maddy Vance will be performing at Wells Fargo's Annual Table for Ten Culinary Event presented by Disney on March 23rd in Orange County, California. To request a live interview with Maddy Vance, or for any additional media inquiries, please contact danithompson(at)dntagency(dot)com or allie(at)dntagency(dot)com.