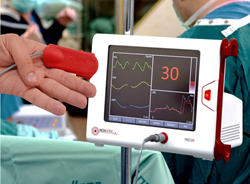 "This important study adds to the growing body of clinical evidence demonstrating the ability of our technology to improve the management of acute and chronic pain." - Galit Zuckerman, Medasense CEO
Phoenix, AZ (PRWEB) March 07, 2014
Medasense Biometrics Ltd. today announced the results from a clinical study evaluating the clinical utility of its objective pain assessment technology in managing patients with chronic pain undergoing spinal cord stimulation (SCS) treatments.
The trial included 33 patients implanted with permanent spinal cord stimulators to relieve chronic pain. The trial results demonstrated the ability of Medasense Pain Index to objectively evaluate the effectiveness of SCS, identifying those patients benefiting from the therapy and those who do not.
Elon Eisenberg, M.D., Director of the Multidisciplinary Pain Relief Unit at Rambam Medical Center, Israel, and a Professor at the School of Medicine, Technion, Israel Institute of Technology, was the principal investigator of the study. Dr. Eisenberg stated, "We were able to demonstrate the importance of objectively assessing pain level in patients suffering from chronic pain, and the utility of Medasense technology in optimizing care for these patients."
Galit Zuckerman, CEO of Medasense Biometrics, commented, "This important study adds to the growing body of clinical evidence demonstrating the ability of our technology to improve the management of acute and chronic pain. Our objective is to support physicians managing pain, the leading cause of patients' complaints, and to reduce the costs resulting from preventable adverse events. Our monitors will provide the most practical and cost effective tools to objectively assess pain levels and help optimize administration of analgesia and other interventions".
About Medasense Biometrics Ltd.
Medasense Biometrics Ltd. is a medical device company developing state-of-the-art pain monitoring solutions. The company's pain monitoring system is designed to provide continuous and objective assessment of a patient's pain level for better pain management. For more information, visit: http://www.medasense.com.
Press Contact:
Mr. Nir Ben-Israel, Clinical and Algorithm Manager 
Medasense Biometrics Ltd.                     
Mobile: +972-54-8006838, Tel: +972-4-9038811, nir(at)medasense(dot)com
http://www.medasense.com