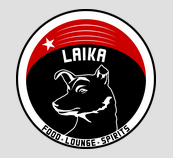 Laika invites Seattle in to explore its palate, and enjoy a new take on Russian food.
Seattle, WA (PRWEB) March 07, 2014
Pioneer Square diners and drink connoisseurs are in for a treat as Laika Lounge servers up lunch during the day, and dinner beginning at 5 PM Tuesday through Saturday. Laika shares a space with Trabant Coffee, at 602 2nd Ave, and is under the same management. The idea for Laika came about last September as manager Zamran Alma and owner Tatiana Becker were discussing their house-made syrup program and specialty coffee drinks. Referencing exotic syrups like saffron and Midnight in Missoula, they agreed, "These would be good in cocktails."
And indeed, they are. The Lenin – which tastes amazingly like a Creamsicle – is a vodka drink featuring Trabant's house-made Midnight in Moscow syrup with a muddled orange. Whiskey drinkers can enjoy that same syrup in The Proletariat (Whiskey, Midnight in Moscow syrup, Ginger Beer) and The Trotsky (Rye Whiskey, Dry Vermouth, Midnight in Moscow syrup, Pineapple Juice). If you like a mojito, you can get a classic mint one – Laika calls it the "Bay of Pigs" – or you can try The Yuri, a gin drink featuring muddled lime and parsley. Wine drinkers can enjoy their choice from an assortment of red and white French wines, or sweeten up their day with the house-made sangria.
Craft cocktails are best paired with fresh, local food, so Laika brought on Chef Joseph Bollag. Chef Bollag is a 3rd generation Chef, from a line of classically trained, Swiss chefs. He grew up in his father's restaurant in Oregon, has held Sous Chef roles at acclaimed restaurants like Seattle's How To Cook a Wolf, and Los Angeles's Fig and Olive, and Chef de Cuisine roles at Osteria Sfizio and The Hungry Cat.
Chef Bollag has taken a new, light approach to Russian classics. Examples include a Beetroot Vereniki, of a striking, deep red, with layers of flavors and textures added with sage, parmesan, poppyseed, horseradish, and crème fraiche. For meat lovers, he offers the Heritage Farms Beef Medallions, topped with a saffron gastrique. His Siberian Latkes offer a twist with their garam masala seasoning, and his vegetarian borscht is warming on the coldest of Seattle nights. And for those with a little extra room and a sweet tooth, Chef Bollag presents blintzes filled with strawberry-orange conserva, and creme fraiche, as well as two versions of dry-cured olive shortbread.
Lunchtime diners can enjoy baked croissant sandwiches filled with fine, melted cheeses. There's a gruyere and chevre with port cherries, and a ham, greyure, and whole grain dijonnaise. Of course, Trabant's famous Clover brewed coffee and espresso based drinks are available at all times of day.
Following in the footsteps of Trabant, which means satellite in German, Laika was named after the world's first space traveler, a tribute the spirit of exploration she embodies. Laika invites Seattle in to explore its palate, and enjoy a new take on Russian food.
For more information, please visit http://laikalounge.com/food/.
Chef bio: http://www.linkedin.com/pub/joseph-bollag/79/a34/97
Contact: Tatiana Becker, Owner, Tatiana(at)trabantcoffee.com, 206-234-9145
Laika is a 21+ establishment.