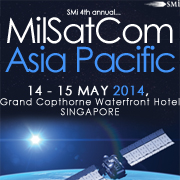 London, UK (PRWEB UK) 10 March 2014
The SMi Group's MilSatCom Asia-Pacific Conference will be taking place on the 27th-28th of May 2014 in Singapore.
Given Singapore's launch into the space and satellite industry with the new Singapore Office for Space Technology & Industry announced this summer, we decided to hold our conference again in the Asia hub Singapore. This initiative is made up of many different organisations including the Singapore Armed Forces and according to various sources, will have a profound impact on Singapore's satellite industry. As well as exploring the new satellite opportunities in both the civil and defence sectors, this year's conference will be focusing particularly on the implications of the US forces moving out to Asia, new technological advancements such as picosatellites and maritime security and other issues facing the industry such as cost-effective usage of satellites.
Key Speakers Include:

Captain Jirapol Wongwit, Director of Policy and Plans Division, Naval Communications and Information Technology Department, Royal Thai Navy
Colonel Mark Patterson, J6 Division Chief, US PACIFIC COMMAND HQ
Lionel Frion, Engineer Spectrum, French Ministry of Defence
Captain Anthony Rommel SD Reyes, PN GSC, Global Satellite Communications, Philippine Navy
Lieutenant Colonel James Dryburgh, JS01 CIS J6, New Zealand Defence Force
Brigadier General (Rtd.) Pitre, Director General Space, Canadian Department of Defence
Lieutenant Commander Georgios Mantzouris, University of the Aegean, Ph.D, Hellenic Navy
Deanna Ryals, Chief International Military Satellite Communication Division, MilSatCom Systems Directorate, US Air Force (subject to a final confirmation) and many more.
For more information about this industry leading event, to download the event's brochure including complete list of speakers and their presentations, or to register, please go to http://www.smi-online.co.uk/2014milsatcom-asia7.asp.
Reasons to Attend:
Hear from a technical expert about emerging satellite programmes in Asia
Learn about the US Forces pivot to the Pacific and implications for the SatCom industry in Asia from US representatives
Explore picosatellites and their implications for the future of Maritime from the Hellenic Navy
Hear from the Philippine Navy about their future plans for MilSatCom
Discuss the future of SatCom in Asia and other issues facing the region such as cost-effective use of SatCom
Gain an insight into the legal aspects of satellite certification in Asia and satellite filing requirements from the French MoD
Meet and network with satcom solutions providers, top military representatives and satcom experts in this field
Plus Interactive Post-Conference Workshop:
Friday, 16th May 2014, Grand Copthorne Waterfront Hotel, Singapore
What is protected military satellite communications?
Workshop Leader: Mr. Rick Skinner, Northrop Grumman Aerospace Systems
Register online at http://www.smi-online.co.uk/2014milsatcom-asia7.asp.
For further details contact James Hitchen on +44(0) 207 827 6054 or e-mail jhitchen(at)smi-online(dot)co.uk
Media-partners contact: Julia Rotar - jrotar(at)smi-online(dot)co.uk, Daniel Lee - dlee(at)smi-online(dot)co.uk)