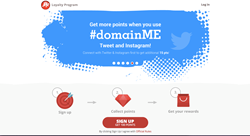 .ME Domain sends Josh Murdock and Michele Price to a Tech Conference in Austin.
Podgorica, Montenegro (PRWEB) March 07, 2014
The .ME Registry, operator of the most personal domain extension available, is proud to announce that Josh Murdock and Michele Price are the winners of the .ME Loyalty Program Grand Prize. They have been selected at random from a pool of participants, and awarded the prize package that includes an entry badge for the conference in Austin, accommodation from March 7-11, and a $500 AMEX gift card for travel and entertainment.
The .ME Loyalty Program is an initiative launched by the .ME domain to connect bloggers, tech savvies and startups fond of personal branding into one community and award them for their loyalty. Participants are encouraged to share and tweet their thoughts on .ME domains and in return they get points that can be redeemed for t-shirts, cups, 16 GB USB drives, or discount on various software. Although the Grand Prize is gone, the .ME Loyalty Program is active until March 31 and all .ME fans may sign up here.
"As a blogger and social media geek, I believe that reward programs can be a great incentive to help pass along products you like to others who can benefit from them", says Josh Murdock, a Grand Prize Winner. "As a professor of social networking, I am always talking about personal branding. Building a 'Your Name Here'.ME site is a great way to create a personal branding and establish an online presence beyond just social networks to showoff your portfolio, projects, and more", adds Murdock.
Michele Price, a digital strategist and the other winner of the trip to Austin, shares her view of the .ME Loyalty Program: "It allows startups and small businesses to be rewarded for sharing their use of .ME domains with colleagues. Brands like .ME that find unique ways to reward their customers are able to do what people in business today appreciate. Every customer likes being rewarded."
"Early spring is the time of the year when Austin becomes the world capital of music, film and technology and we are excited to learn that the conference it hosts is a perfect fit for the Grand Prize winners", says Predrag Lesic, the CEO of the .ME Registry. "There is nothing better for entrepreneurs and new media managers than mingling with like-minded people at one of the biggest events in the USA".
To learn more about the .ME Registry, developing a .ME business idea and many clever uses of the .ME domain or to simply find out how to register a .ME domain name, please visit http://domain.me/.
About the .ME Registry:
.ME Registry (the d.b.a. of doMEn, d.o.o.) was chosen by the government of Montenegro to operate the new .ME domain name extension. .ME Registry partners include ME-net, GoDaddy and Afilias Limited. Me-Net is a Montenegrin registrar and its founders are leaders of the ICT sector in Montenegro, who among other things participated in a successful privatization of Montenegrin largest ISP. GoDaddy, the world's largest technology provider dedicated to small businesses, is the world's No. 1 domain name registrar. Afilias Limited is headquartered in Ireland and is a leading registry services provider, supporting more than 15 million domains worldwide.