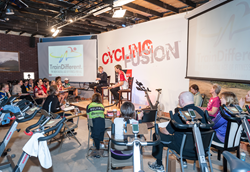 Everybody receives a new heart rate monitor!
Pittsburgh, PA (PRWEB) March 17, 2014
Heart Zones USA is a training, education, and coaching company lead by hall of famer Sally Edwards who is laser focused to get people "Hooked on Training." To do this, she will endeavor to just get them hooked on moving — to fall in love with physical activity — using the latest in exercise science coupled with the latest fitness technology, all fused with compelling applications on a bike, walking, tumbling, dancing. How do you and how does America get hooked on training?
Together, the two companies are hosting the 12th Annual Heart Zones Conference 2014 titled "Get Hooked on Training." The Conference is Saturday, March 29, 2014 with participants attending in one of four ways: live audience; official site locations; streaming video into our homes, schools, and facilities; and by delayed broadcast — at a time most convenient to the participant.
Hosted by the PNC YMCA, individuals can attend the conference by participating in the event that is a combination of "hands-on" workouts led by Cycling Fusion's founder Gene Nacey (Coach Gino). According to Coach Gino, "Everyone attending at this beautiful YMCA in downtown Pittsburgh will have the opportunity to learn, grow, and even receive a complimentary heart rate watch from Sally. They will get continuing education units, enjoy workouts on a variety of club equipment, and learn their own individual heart zones by participating in one or more field tests."
Getting started in a regular health active living program is a struggle for many. Staying on that program, the next step to lifetime health and fitness also known as exercise adherence, can be even a greater challenge.
There will be four dynamic keynote presentations led by Carl Foster, Ph. D. and Sally Edwards, MA, MBA on current topics and controversies. A professor at the University of Wisconsin, LaCrosse, Dr. Foster is an author, researcher, and one of America's leading experts in the application of exercise science. "We need safe, motivational, and sound exercise programs that really work for people rather than hype and workouts that might kill the dumplings," says Foster, the past president of the American College of Sports Medicine and co-author of Be a Better Runner. Foster's topics include the science of weight loss, HIIT training (high intensity interval training) and exercise compliance and adherence or how to stay hooked on training.
There will be three high-energy, mobile and data driven workouts led by Coach Gino and one or more of his instructors. In addition, during the Conference there will be the announcement and demonstration of new and innovative technology products such as wearables, new mobile apps, new equipment and solutions and more that help folks get hooked on training.