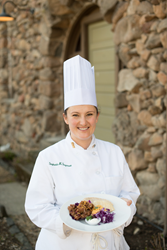 These exceptionally innovative students have thought outside the culinary box to come up with novel approaches to blending cranberries and traditional Latin dishes. - Scott J. Soares, Executive Director, CMC
Wareham, MA (PRWEB) March 11, 2014
Creating school foodservice lunch meals that are healthy and which kids will actually eat can be challenging. Add to that the task of coming up with a recipe that is Latin-themed, features U.S. cranberries as a key ingredient, and which is scalable to school foodservice portions, the challenge might seem daunting.
In December 2013, while representing U.S. grown cranberries, the Cranberry Marketing Committee (CMC) defied the odds and asked student chefs from The Culinary Institute of America (CIA) Greystone campus in St. Helena, California to come up with some original and creative ideas for an American original "superfruit". To help them with the task, competition entrants were provided with fresh, frozen, dried, and sauce cranberry samples from cranberry companies across the U.S. Over a dozen recipes were submitted with three finalists announced on January 15th 2013.
"These exceptionally innovative students have thought outside the culinary box to come up with novel approaches to blending cranberries and traditional Latin dishes," said Scott J. Soares, Executive Director, CMC. "This competition has not only given us winning recipes that will enhance school meals but also a new group of aspiring chefs who's experience will certainly go on to broaden the appeal of America's original superfruit to many different audiences."
"We are thrilled our students had the chance to use their skills and creativity to work with cranberries, and use them in a way that will benefit school kids by offering some delicious lunch ideas that include this superfood," said Russell Scott, Dean of Education at the CIA at Greystone. "We are also grateful to the CMC for awarding our top three finalists with scholarship money, which will help them realize their culinary dreams."
Snuggled in the scenic hills of Napa Valley's wine country, the CIA Greystone's Williams Flavor Discovery Center opened its doors in the early morning hours so that the student finalists could prepare their signature dishes for judges and spectators. Melissa Horstman presented a breakfast/snack idea with her Cranberry Honey Quinoa Bars and Spiced Cranberry Yogurt. Next Stephanie Torgerson offered a Cranberry Turkey Picadillo lunch menu item. The final dish was presented by Bruce Harrison who prepared Cranberry Braised Pork Stuffed Peppers with Pickled Onions and Crema.
The dishes were judged on Latin inspiration, use of cranberries, creativity, appropriateness for school foodservice, presentation and description, and kid-friendliness. Stephanie Torgerson won a $3,000 grand prize scholarship for her Cranberry Turkey Picadillo. Melissa Horstman placed second for $1,500 and Bruce Harrison third for $1,000.
Said Stephanie Torgerson, an Air Force veteran who learned appreciation for cooking from her mother, "I am passionate about changing the way people eat by developing recipes that are both healthy and economical. I believe the best way to change the way our nation eats is to start by giving children healthier choices early on. I am humbled to have had the opportunity to create a healthy school lunch recipe with cranberries that tastes good and is fun."
Added, fellow contestant Bruce Harrison, "Competitions like this are great because they help us push ourselves to new and exciting places in the kitchen and on the plate. The cranberry is so versatile. It's only a matter of time until you start seeing it on menus across the country."
The impetus for the competition was sparked in part by overwhelming survey results indicating that school foodservice professionals would be highly inclined to use cranberries in school meals if they had more recipes, particularly if they were compliant with new school lunch program health guidelines. The new recipes will be adapted and added to the CMC's school nutrition toolkit.
"As a proud grandmother, I am often reminded that young children can have very strong feelings about their food preferences," said Vicki Nimitz, Wisconsin cranberry grower, Chair of the CMC Domestic Marketing Subcommittee and a judge at the CIA cranberry cook-off competition. "These new recipes build on the great headway we are making to ensure that we are part of healthier school diets while also catering to the diverse tastes of America's school children today."
About the Cranberry Marketing Committee (CMC)
The CMC was established as a Federal Marketing Order in 1962 to ensure a stable, orderly supply of good quality product. Authority for its actions are provided under Chapter IX, Title 7, Code of Federal Regulations, referred to as the Federal Cranberry Marketing Order, which is part of the Agricultural Marketing Agreement Act of 1937, as amended. This Act specifies cranberries as a commodity that may be covered, regulations that may be issued, guidelines for administering the programs, and privileges and limitations granted by Congress. For more information about the CMC, visit http://www.uscranberries.com or follow @uscranberries and Cranberry Cravers on Facebook.
About the CIA
Founded in 1946, The Culinary Institute of America is an independent, not-for-profit college offering associate and bachelor's degrees with majors in culinary arts, baking and pastry arts, and culinary science, as well as certificate programs in culinary arts and wine and beverage studies. As the world's premier culinary college, the CIA provides thought leadership in the areas of health & wellness, sustainability, and world cuisines & cultures through research and conferences. The CIA has a network of 45,000 alumni that includes industry leaders such as Grant Achatz, Anthony Bourdain, Roy Choi, Cat Cora, Dan Coudreaut, Steve Ells, Johnny Iuzzini, Charlie Palmer, and Roy Yamaguchi. The CIA also offers courses for professionals and enthusiasts, as well as consulting services in support of innovation for the foodservice and hospitality industry. The college has campuses in Hyde Park, NY; St. Helena, CA; San Antonio, TX; and Singapore. For more information, visit http://www.ciachef.edu.