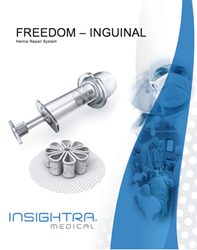 This is the first inguinal hernia implant that has been designed specifically to tackle pain
Irvine, California (PRWEB) March 12, 2014
Every year, more than 800,000 inguinal hernia repairs are performed in the United States and more than two million hernia mesh implants are implanted worldwide. The aim of these repairs is to treat a small, sometimes painful, bulge in the groin. One of the frequent complications associated with current repair methods is long lasting pain after the surgery that is frequently attributable to the mesh that is sewn in place. This chronic pain has been shown in clinical studies to occur in up to 11% of patients and adversely impact patients' quality of life. Insightra Medical, an innovator in the field of hernia surgery, has initiated the Freedom Inguinal Hernia Repair System Study to investigate the impact of its next generation hernia implants on Quality of Life outcomes. The expectation is that Insightra's new generation of Freedom ProFlor™ 3D dynamic implants, which are not sewn in place, will reduce the chronic pain associated with older style meshes and procedures.
The Study is designed as a "Quality of Life" study that utilizes the Carolinas Comfort Scale (CCS) questionnaire developed by Dr. Heniford from the Carolinas Medical Center. The primary focus of the Study is to assess if using an Insightra 3D dynamic implant leads to higher Quality of Life scores, particularly by reducing chronic pain. Insightra's ProFlor has been designed to eliminate fixation, excessive surgical dissection and the use of sheets of mesh that are often laid on top of nerves; all three of which are directly linked with chronic pain. Study patients will be followed for up to 3 years post-surgery to measure the impact of Insightra's ProFlor fixation-free technology.
To date, ProFlor has been the subject of several internationally published studies that indicate decreased procedural times, lower acute pain and the virtual elimination of chronic pain and primary recurrences. This Study is the first prospective international study that is intended to further validate the clinical results that have been recorded over the previous eight years of ProFlor's clinical use.
"This is the first inguinal hernia implant that has been designed specifically to tackle pain," said Dr. Karl LeBlanc, the Study's lead investigator. "My experience with the device leading up to the Study has demonstrated that pain and recovery are improved through the lack of fixation and elimination of an on-lay mesh. We also observed that surgical times are significantly reduced. We now aim to study ProFlor in a long-term setting to verify whether these benefits deliver sustained improvement in quality of life."
The Study is a major international study with participating centers located in the United States, Latin America and Europe. The objective is to complete patient enrollment in 2014 and present the first interim results at the 2015 World Congress of Hernia Surgery being held in Milan, Italy.
Patients interested in enrolling in the Study should contact Insightra Medical at info(at)insightra(dot)com to find out if there are participating centers in their area. Centers interested in participating in the Study should contact Jim Clift at jim(at)insightra(dot)com or at (949) 215-1835 x108.
About Insightra Medical:
Insightra Medical, Inc. designs, develops, and markets a new generation of medical devices serving the hernia and surgical retraction segments of the general surgery market and recently introduced a highly innovative and proprietary catheter securement device. Headquartered in Irvine, California with offices in Goa, India and Rome, Italy, the company is FDA registered, ISO certified and distributes its products in more than 50 countries. For more information on Insightra Medical, please visit us at http://www.insightra.com.
Insightra Medical Inc. will be showcasing the ProFlor 3D dynamic implant at Booth 406 at the 16th annual Americas Hernia Society meeting that is being held March 12th to 15th at the Bellagio Hotel in Las Vegas, Nevada.
Contact:
Info(at)insightra(dot)com
The study is registered at ClinicalTrials.gov - Identifier: NCT01984996