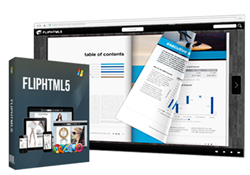 (PRWEB) March 08, 2014
Fliphtml5.com, a rising software company has updated its digital publishing software to a better version. When creating an eBook or magazine to share with friends and family, to pursue dreams of becoming a published writer, or to promote a business—the price of publishing has always been high. However, there is an alternative. With the IT boom came the ability to create "flipbooks" that can be marketed and distributed for both personal and professional use.
While there are many places to turn to when seeking out digital publishing software, the IT experts at Fliphtml5.com have made the process fast, easy—and fun! It is a full service HTML5 publishing solution, whose online interface is user-friendly, even for individuals with little to no IT experience.
"Fliphtml5.com transforms your PDF contents into realistic page turning effects in minutes. Online eBooks, magazines, and newsletters can spread like wildfire across the web, making your dreams of publication come true faster than you could ever imagine." The spokesman Kevin Wang said.
The digital publishing software is available in one of 5 packages, which allow users to upload an unlimited amount of PDF files to convert to a custom designed flipbook. The service is free for standard users, but more advanced professional packages are available at a variety of price points.
Flipbooks are easier to market, share, and read because they allow readers to turn pages as opposed to scrolling down a screen—as if they were reading an actual book or magazine. The creative software can be used to create a book, magazine, newsletter, or a unique personalized keepsake.
Visit http://fliphtml5.com/ to learn more detailed features about the innovative digital publishing software.