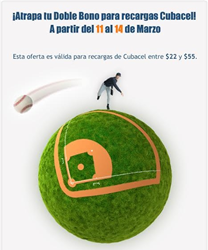 Between March 11-14, HablaCuba.com hosts a new "doble bono" promotion for top ups to Cubacel. The campaign is called "Atrapa tu Doble Bono" and is dedicated to new customers as well as loyal ones.
Atlanta, Georgia (PRWEB) March 09, 2014
For all Cubans living outside their mother country, HablaCuba.com announces the launch of a new double recharge promotion, under the title "Atrapa tu Doble Bono." The promotion is available between March 11-14, and doubles the mobile credit sent as an international top up to Cubacel mobiles. The bonus amount is active for 180 up to 330 days and may be a great gift or surprise for family and friends in Cuba.
The promotion "Atrapa tu Doble Bono" builds its optimistic message around the the idea of continuity, spontaneity, enthusiasm and energy, specific to sports, baseball included. It seems, baseball was introduced to Cuba in 1860s by Cuban students returning from colleges in the US, and remained popular since then.
The current top up offer brings forth the famous Cubacel double bonus ("doble bono") and it is active for four days, starting March 11th, Cuba time.
The online recharge on HablaCuba.com takes less than one minute. Plus the website can be easily accessed from any mobile device connected to the Internet. So, time and location are no constraints for those who need to recharge Cuba cell phones or other mobiles in other countries in few easy steps. Customers only need to select the country they want to send mobile credit to, enter mobile operator and the mobile number they wish to recharge, and proceed to payment. The credit amount is sent to the desired mobile number immediately and the transaction status can be checked in real time in the online account.
The promotion brings 100-percent extra mobile credit to the person receiving the cell phone recharge. For example, anyone can recharge a mobile in Cuba with 40 CUC and pay only $22. The minimum value ordered to receive the bonus is $22 and in this case bonus is active for 180 days, while the maximum is $55 and expires in 330 days.
The promotion addresses all those holding a free account on HablaCuba.com and applies to Cubacel top ups of minimum $22 and maximum $55. This March promotion "Atrapa tu Doble Bono" is a great way to save money on international recharges and send extra phone credit to relatives and friends in Cuba.
An extra bonus applies on HablaCuba.com for each mobile recharge. Customers receive 2% of the value of the purchase in Thank You points. Whenever customers reach 1,000 Thank You points, they can convert them in $10 free Voice Credit that they can use to call Cuba without paying anything.
The new HablaCuba.com design keeps the ordering process simple. It takes less than one minute to send credit to a mobile abroad.
Plus, support is highly valued: a comprehensive Help Center, 24/7 Customer Service available by phone, email, and chat in both English and Spanish.
The current campaign is part of a sequence of actions initiated by Cubacel for loyal subscribers. Experienced customers claim that these promotions, known as "doble bono Cubacel" or "doble recarga Cubacel," are a great chance to send double credit when recharging friends' and relatives' Cubacel mobiles.
On a review website, a customer describes the service briefly: "Muy bueno, rapido y seguro." On the same website, another one says that HablaCuba.com "Es muy bueno es la forma que tengo para comunicarme con mis familiares en Cuba" or "We are extremely satisfied with the services HablaCuba continues to provide. Definitely a company we recommend to our family and friends. God Bless!"
HablaCuba.com is known as a service provider who is rather strict about 100% transaction security and satisfaction. All major payment methods are accepted: Visa, MasterCard, American Express, Discover and PayPal. The service offers an easy, fast, and reliable solution to all those traveling or living abroad interested to add credit to mobiles in Cuba.
Besides international Mobile Recharges, HablaCuba.com offers Voice Credit. This is a prepaid self-service offering low budget credit for international calls and SMS, associated with a PIN. It works as a virtual calling card, whose balance can be used to call and send SMS in four different ways: from a phone with no Internet connection via access numbers, from PC to phone via Web Call and Web SMS apps, and from any smartphone by using a free app for iOS and Android called KeepCalling.
About HablaCuba.com
HablaCuba.com is an interactive website designed by KeepCalling, a global telecommunications company registered in 2002 in USA. KeepCalling, the company behind HablaCuba.com, offers other telecom solutions apart from Mobile Recharge: Voice Credit, Virtual Number, Monthly Plans, WebFax, Web Call and Web SMS through various ethnic websites. Presently, KeepCalling provides its services to over 150,000 consumers and businesses, with a focus on customer satisfaction. In 2013, Inc Magazine listed KeepCalling as the 16th fastest growing company in the telecommunications industry.