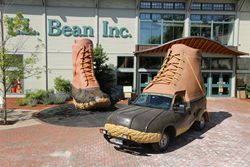 L.L.Bean has performed very well in a marketplace that continued to struggle with economic uncertainty, political distractions and shaky consumer confidence.Chris McCormick, L.L.Bean's President and CEO
Freeport, Maine (PRWEB) March 07, 2014
L.L.Bean announced today a positive close to its 2013 fiscal year. On the basis of the business performance for 2013, the company announced its intent to pay 8% performance bonuses to approximately 5,000 full and part-time employees.
For the 2013 fiscal year ending February 23, 2014, L.L.Bean reported annual net sales of $1.56 billion, a 3% increase over 2012.
"L.L.Bean has performed very well in a marketplace that continued to struggle - with economic uncertainty, political distractions and shaky consumer confidence," said Chris McCormick, L.L.Bean's President and CEO. "The company's solid performance in fiscal 2013 is the result of a lot of hard work and dedication of our employees. The positive performance is also the outcome of strategies and investments put in motion in 2010 while the economy was still in a recession."
"On behalf of the Board of Directors, I would like to express our appreciation to the L.L.Bean employees that made this happen," said Shawn Gorman, L.L.Bean's Chairman of the Board. "This year-end bonus is in recognition of their hard work, and a tribute to the strategies and investments we set in motion in 2010 that positioned the company for growth. We have an amazingly talented team in place and are pleased to continue the family's commitment to keeping employee and shareholder interests aligned and reward our employees for their hard work, dedication and achievements."
In addition to the bonus announcement, the company also reported to its employees the additional contribution of $40 million to fully fund its defined benefit pension program. Combined with the bonus, this represents a $78.5 million investment in L.L.Bean employees.
McCormick went on to elaborate on the results of 2013. "We have made substantial investments in our website as well as in our internal processes, all with a goal of providing better product assortment and quality service to our customers. These investments have paid off in increased online sales, greater productivity and wide appeal for new fits and styles in Men's, Women's and Outerwear, as well as an expanded Active line. In addition we saw growth in Sporting Equipment with strong performance in our Hunting and Fishing lines as people continue to spend more time outdoors. Our Maine-made L.L.Bean Boot production is at an all-time high, demonstrating Bean's first product is as relevant today as it was 101 years ago."
Looking Ahead:
"We look forward to another successful year in 2014," said Chris McCormick. "The past few years have focused on prudent management of the business and conservative growth plans. In the new fiscal year we will make the largest single-year capital investment with an additional $100 million in the Web, Retail expansion and business systems to fuel our continued growth. We will be opening four new stores, expanding our Signature product line and growing the brand as we see continued strengthening of the economy."
2013 Business Highlights:

2013 company revenues $1.56 billion
Men's and Women's Apparel and Outerwear and Sporting Goods saw revenue growth, with particular growth in our Hunting and Fishing categories, the heart of our outdoors heritage
L.L.Bean Boot production continues at an all-time high
$100 Million investment in internal productivity and process improvements
ForeSee named L.L.Bean #1 in Overall Customer Satisfaction and ranks 2nd in E-Holiday Customer Satisfaction; Internet Retailer named LLB one of top 10 online apparel retailers; ranked #1 for email resolution by StellaService
L.L.Bean donated $1.6 million in corporate contributions to nearly 200 non-profit organizations and an additional $360,000 for disaster relief
Created unique tote bags out of Boston's Fenway Park infield rain delay tarp, with profits donated to The One Fund Boston to support victims of the Boston Marathon bombing
Provided Red Sox team and staff with one-of-a-kind red Bean Boots complete with World Series logo, to commemorate their 2013 victory
Retail: 2013 marks the most profitable year for retail since the company began operating stores outside of Maine; opened one new store in Freehold, NJ; Fayetteville New York Outlet converted to full price store; first-ever kiosk opened in the Natick Mall was a huge success, 88% over plan
Outdoor Discovery School participants at an all-time high of 100,900
International: new store in popular Jiyugaoka area of Tokyo opened in October; introduced three successful collaborations: Isetan department store, Tokyo Disneyland and Beam's department store to sell specialty products made by L.L.Bean manufacturing in Brunswick, Maine
On December 5th 173,000 orders shipped; from Thanksgiving to Christmas 3.5 million orders shipped, 1,633,424 calls answered
Customer Satisfaction responded to 128,000 contacts on Cyber Tuesday
Record-breaking United Way campaign raised $1.626 million in corporate and employee donations for United Way offices
###
About L.L.Bean
L.L.Bean, Inc. is a leading multichannel merchant of quality outdoor gear and apparel. Founded in 1912 by Leon Leonwood Bean, the company began as a one-room operation selling a single product, the Maine Hunting Shoe. While its business has grown over the years, L.L.Bean still upholds the values of its founder, including his dedication to quality, customer service and a love of the outdoors. L.L.Bean products are rigorously tested, guaranteed to last and always shipped free. In the past five years, L.L.Bean has donated over $6 million toward conservation and land stewardship. The 220,000 sq. ft. L.L.Bean retail store campus in Freeport, ME, is open 24 hours a day, 365 days a year and welcomes more than 3 million visitors every year. L.L.Bean can be found worldwide at http://www.llbean.com, Facebook, Twitter, YouTube, Pinterest, Google+ and Instagram.
A privately held company, L.L.Bean does not publicly disclose financials.