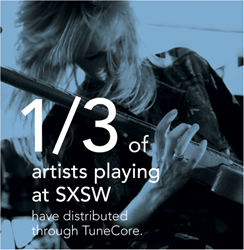 "TuneCore Artists to Watch at SXSW 2014" recognizes the talent and entrepreneurial spirit of independent musicians.
Brooklyn, NY (PRWEB) March 07, 2014
TuneCore, provider of digital distribution to one out of three artists performing at South by Southwest, today announced their "TuneCore Artists to Watch at SXSW 2014" list.
The hand-selected list, which recognizes the talent and entrepreneurial spirit of independent musicians, includes singer-songwriter Kendall Schmidt of Big Time Rush, whose first single with his band Heffron Drive will be released through TuneCore in March. Underscoring the incredible variety of music and artists across the TuneCore platform, the list also features artists representing different genres and geographies who are particularly poised for success – including Austin's own Feathers, just back from a tour of Europe with Depeche Mode.
"TuneCore Artists to Watch at SXSW 2014"

TuneCore has also partnered with The Wild Honey Pie & Pretty Much Amazing for "The Beehive" showcase on Saturday March 15, from 12PM- 7PM at Cheer Up Charlie's. The all-day event features TuneCore artists Miniature Tigers, Small Black, Boy & Bear, Oberhofer, High Highs, The Eastern Sea, Monogold, Pure Bathing Culture, How Sad, Gossling and Yellerkin. TuneCore representatives will be onsite as a resource for artists and media.
As part of its support for artists at SXSW, TuneCore is also releasing a 32-track Spotify playlist available at http://open.spotify.com/user/tunecore/playlist/4oB1wwp0eftWPqp1ucB1sa featuring the 11 TuneCore bands performing at The Beehive as well as the "TuneCore Artists to Watch at SXSW 2014."
For a full list of artists who leverage TuneCore Music Distribution and/or Music Publishing services who are performing at SXSW, visit http://www.tunecore.com/index/sxsw.
Details about "TuneCore Artists to Watch at SXSW 2014"
Kendall Schmidt: Appearing at SXSW with his new band Heffron Drive, singer-songwriter and actor Kendall Schmidt embodies the entrepreneurial mindset and artistic spirit of TuneCore. Having solidified his stardom on Nickelodeon's hit television show "Big Time Rush," Kendall was courted with offers for recording contracts, but instead opted to form his own record label – TOLbooth Records – and partner with TuneCore for digital distribution and publishing to retain greater control of his masters and his career. His highly-anticipated single "Parallel" is scheduled for release March 25th and is available for pre-order March 11th.
Lindsey Stirling: A truly one-of-a-kind musician, dancer, performance artist and composer, Lindsey Stirling is taking the world by storm with her choreographed violin performances. She's reached over 500 million views on YouTube, earning an award for "Response of the Year" from the site in 2013. She has released her debut album and 5 singles through TuneCore.
Isaiah Rashad: Making his SXSW debut is indie-label Top Dawg Entertainment's latest rising star, Isaiah Rashad. His highly-anticipated debut, Cilvia Demo, was released through TuneCore in January.
Feathers: Hand-picked by Depeche Mode as support for their 2014 European tour, Feathers is a critic and fan favorite whose fresh EP Only One was released through TuneCore in January.
Jeff Black: Voted one of the top 100 most important Folk artists of the last 25 years by radio station WUMB, this critically-acclaimed singer-songwriter has released 10 albums through TuneCore. TuneCore Music Publishing Administration has also helped Black by administering his compositions through registration and worldwide royalty collection. His new album, Folklore, is currently available in iTunes for pre-order, scheduled for release in April 2014.
Leftover Cuties: After a string of impressive licensing placements, Leftover Cuties has won the hearts of fans worldwide. They've released 5 albums and 6 songs through TuneCore, including their latest album, The Spark & the Fire, which has been lauded by critics from Paste Magazine, Lucky Magazine, American Songwriter and WNYC.
About TuneCore
TuneCore brings more music to more people, while helping musicians and songwriters increase money-earning opportunities and take charge of their own careers. The company has one of the highest artist revenue-generating music catalogs in the world, earning TuneCore artists $371 million on 5 billion streams and downloads since inception, with over $121 million from over 3 billion downloads and streams in 2013 alone. TuneCore Music Distribution services help artists, labels and managers sell their music through iTunes, Amazon MP3, Spotify, Google Play, and other major download and streaming sites while retaining 100% of their sales revenue and rights for a low annual flat fee. TuneCore Music Publishing Administration (based in Burbank, CA) assists songwriters by administering their compositions through licensing, registration and worldwide royalty collection, including collection of YouTube revenue in partnership with INDMUSIC. TuneCore is based in Brooklyn, NY and is backed by Opus Capital and Guitar Center. For more information, visit http://www.tunecore.com.