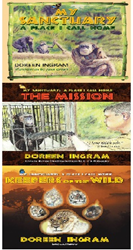 'My Sanctuary: A Place I Call Home' captures the desperate need of orphaned chimpanzees and how they find love and a new life at Chimp Eden. The perfect gift for every child. I love this book. – Jane Goodall
(PRWEB) March 10, 2014
Chimpanzees are the mammals most like humans. Because of this, people love to watch them, and chimps have long been captured and exhibited at circuses and zoos to feed the public's curiosity. Hear the story firsthand fom Joao...
In "My Sanctuary: A Place I Call Home", Joao the chimpanzee lives in a sanctuary called Chimp Eden, part of the Jane Goodall Institute of South Africa. Joao tells the sad story of how he was taken from his family and sold to a circus, ultimately to sit in a small cage at a zoo for more than 50 years.
"Children love stories. This delightful book, with its captivating illustrations, tells the true stories of Joao, Cozy, and some of the other orphaned chimpanzees who have been lucky enough to end up in Chimp Eden. It will help young people – and their parents – understand the dangers faced by chimpanzees in the wild and the often brutal treatment they receive in captivity. It will generate empathy and a desire to help. A perfect gift for all children who love animals." – Jane Goodall, PhD, DBE, founder, the Jane Goodall Institute and UN Messenger of Peace, http://www.chimpeden.com
Amazon readers have written: "This book brought tears to my eyes." "A touching and interesting book for anyone who wants some insight into the state of chimpanzees in Africa, especially those lucky enough to be rescued by a first-rate sanctuary like Chimp Eden."
Through the author's insightful second book, "My Sanctuary: A Place I Call Home – The Mission", readers again see the world through the occupants of Chimp Eden, where Joao began his second life.
Time is precious for all the remaining chimps left in the wild. In this compelling story, Joao, as the granddad chimp of the sanctuary, wants to pass his "voice" to another chimp to continue the mission of teaching about the chimps' lives and the plight of the great apes. It is up to Jessica, a 30-year-old female chimp, to carry on Joao's stories that hope to change the way chimpanzees have been used by humans for entertainment or pets.
You will never look at a chimp again in the same way, because after reading this stirring book, you will understand that they too only want a place to call home.
"'My Sanctuary: A Place I Call Home' captures the desperate need of orphaned chimpanzees and how they find love and a new life at Chimp Eden. The perfect gift for every child. I love this book." – Jane Goodall
In "My Sanctuary: A Place I Call Home – Keepers of the Wild", Elvis, an African lion, tells the story of his life performing in a big cat show. Kept caged when not performing, Elvis and the other big cats are about to leave their cages so they can now roam a natural enclosure they will call home.
"What I couldn't know, until I read the book, was how the animals themselves see the world through their own eyes. If you want a glimpse of the lives of animals from their point of view rather than ours, you can't do better than My Sanctuary: A Place I Call Home." – Greg Dobbs, speaker, author, veteran television journalist
"As a person who for 30 years has tried to educate the general public in different ways as to the suffering of wild animals used in circuses and shows, I have always said we need to reach the children. I believe this book will leave a lasting impression on them as masterfully told through the eyes of the animals themselves." – Linda Faso, animal advocate
Doreen Ingram is a retired registered nurse and foster parent for the Wildlife Sanctuary of Northwest Florida. She does school presentations to share information about endangered wildlife, conservation, the great apes, and big cats. She was motivated to write My Sanctuary books because of her love for animals and the people who save them.
Author website: http://www.mysanctuarybooks.com
MY SANCTUARY: A PLACE I CALL HOME (ISBN: 978-1-60911-480-0) is now available for $17.50.
MY SANCTUARY: A PLACE I CALL HOME – THE MISSION (ISBN: 978-1-61204-806-2) is now available for $17.50.
MY SANCTUARY: A PLACE I CALL HOME – KEEPERS OF THE WILD (ISBN: 978-1-62516-273-1) is now available for $17.50.
All can be ordered through the publisher's website:
http://sbpra.com/ADoreenIngram or at www(dot)amazon(dot)com or www(dot)barnesandnoble(dot)com.
WHOLESALERS: This book is distributed by Ingram Books and other wholesale distributors. Contact your representative with the ISBN for purchase. Wholesale purchase for retailers, universities, libraries, and other organizations is also available through the publisher; please email bookorder(at)aeg-online-store(dot)com
Strategic Book Publishing and Rights Co, LLC