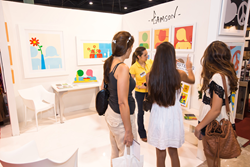 'Home Sweet Home celebrates South Florida living, indoors and out,' said Stephen Gamson,about his limited edition Home Show poster debuting at the Show.
Miami Beach, FL (PRWEB) March 10, 2014
The Miami Home Design and Remodeling Show will celebrate art and its place in the home with a special exhibit within this year's event. The Artist Encounter at the Home Show will present the work of Stephen Gamson, renowned multi-media pop artist. A collection of his work will be on display at the Home Show, March 21-24th at the Miami Beach Convention Center.
As a special tribute, Gamson has designed an original poster for the Home Show, entitled Home Sweet Home. The design incorporates aspects of the home, while celebrating South Florida and the unique outdoor living opportunities enjoyed by South Floridians. The limited edition poster will be debuted at the Home Show with a special signing by Stephen Gamson on Saturday and Sunday from 3:00 pm -4:00 pm.
Gamson's unique style is easily recognized for its bold colors, iconic symbols and mass appeal. He spends most of his time creating paintings and sculptures that are optimistic, playful and witty. His pop culture art has been featured at Art Basel Miami Beach, the Scope Art Fair, the Red Dot Art Show, Art Miami, and in many solo and group exhibitions internationally, where he is collected by "A" list celebrities and corporations.
The Home Design and Remodeling Show presents a comprehensive collection of international home improvement, upscale interior design and home renovations for indoors and out. Personalized, one-on-one interaction with industry experts is a mainstay of the Home Show. In addition, complimentary seminars by experts and daily cooking demonstrations by guest chefs are featured. The team at Home Show Management Corp, producers of the Home Show, has been producing quality events in South Florida for over forty years. Gamson's exhibit at the Home Show is sponsored by Around Town Arts & Culture, a magazine that works to support the arts and artists in South Florida.
Home Show hours: Friday (3/21) 4:00 pm-10:30 p.m.; Saturday (3/22) 12:00 pm-10:30 p.m.; Sunday, (3/23) 12:00pm -7:30 pm; Monday (3/24) 6:00 pm -10:30 pm.
For more information on the Home Show, visit http://www.homeshows.net. For more information on Stephen Gamson, visit http://www.stephengamson.com.
Social Media: http://www.facebook.com/FloridaHomeShow and Twitter @FLHomeShows.