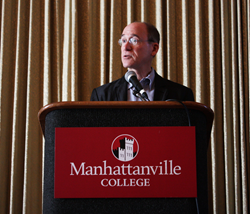 Purchase, N.Y. (PRWEB) March 07, 2014
Bruce Nussbaum, author of "Creative Intelligence," and a panel of Westchester's leading business professionals headlined the second event in Manhattanville College's School of Graduate and Professional Studies' (GPS) 20th Anniversary "Insights into Leadership" speaker series Thursday morning. The March 6 event was held in partnership with the Business Council of Westchester and the Westchester Library System.
Nussbaum and panelists Larry Gottlieb, CEO, Hudson Valley Economic Development Corporation; Dani Glaser, founder and CEO of Green Team Spirit; Chris Maher, CEO, House Party; and Jim Giangrande, managing director and partner, Altium Wealth Management, spoke to a captivated crowd of nearly 75 members of the Manhattanville, Westchester and Fairfield business communities. The panel, moderated by Marsha Gordon, CEO of the Business Council of Westchester, followed a networking breakfast reception in Manhattanville's historic Reid Castle.
Nussbaum notably discussed the importance of being creative in an age of "VUCA," or volatility, uncertainty, complexity and ambiguity. "Creativity is a way to deal with the challenges that are associated with a period of change, when you know you have to try something different," Nussbaum said. Nussbaum also identified the five key competencies associated with creativity: "knowledge mining," knowing what is meaningful to people, "framing and reframing," based on personal stories and beliefs, "playing," a process to generate something new, "making," generating new ideas and tools, and "scaling," taking creativity and harnessing its power to create something.
A lively panel discussion followed Nussbaum's keynote, highlighting the importance of fostering a sense of creativity among every level in the workplace. "No one can afford to not be creative anymore," Glaser said. "A high value should be placed on creativity, regardless of the person or the position they hold in a company," Gottlieb added.
In celebration of The School of Graduate and Professional Studies' 20th anniversary year, the "Insights into Leadership" series will offer speakers with a broad range of business expertise, presenting their views on local, national and global trends. The third presentation in the series, titled "The Power of Building Content and Community," is scheduled for April 7 and will feature a panel of key Westchester-based businesses and marketing masters, including Heineken USA, House Party and Tommie Copper.
"This was a terrific second event in our school's 20th anniversary speaker series," said Dr. Anthony Davidson, dean of the School of Graduate & Professional Studies at Manhattanville College. "Bruce Nussbaum and our esteemed panelists provided insightful ideas about creativity as a key to success in any business."
The event was sponsored by Westfair Communications and Fidelity Investment's Scarsdale office.
About The School of Graduate and Professional Studies at Manhattanville College:
For two decades, The School of Graduate and Professional Studies has helped prepare today's professionals for tomorrow's business. Instructors are seasoned experts holding senior positions at major companies such as Morgan Stanley, Major League Baseball, Pitney Bowes, Verizon, ABS Sports, and Associated Press.
Originally established as Adult and Continuing Education, GPS evolved in 1993 with the launch of the Masters of Science degree in Organizational Management and Human Resources Development.
Today, the school offers six Master's degrees, including, Business Leadership, Finance, Human Resource Management and Organizational Effectiveness, International Management, Marketing Communication Management and Sport Business Management. GPS also offers Advanced Certificates in Business Leadership, Finance, Human Resource Management, and Marketing Communication Management as well as three accelerated Bachelor's degree programs for adult learners.