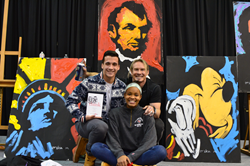 Sometimes it pays to take a risk.
Princeton, NJ (PRWEB) March 09, 2014
On Tuesday, March 4th, The Hun School of Princeton welcomed Erik Wahl, for the keynote address of the School's Centennial Speaker Series: The Next 100 Years. Mr. Wahl's energetic and moving presentation, "Discover Your Creative Genius," entertained and inspired audiences. He addressed topics of adaptive vision, risk-taking, creating disruptive strategies, dealing with fear, and strategically allowing oneself to embrace creativity – all while painting original pieces of artwork live on stage. In addition to the two interactive keynote presentations, Mr. Wahl fielded questions from students and faculty, enticed treasure hunters, and set classrooms and social media ablaze with provocative discussions.
After suggesting that remarkable things happen on the edge of comfort, Mr. Wahl invited Maria Freitas '15 to the stage to perform a set of Fear Factor-inspired instructions. He explained, "We sometimes allow these fears to paralyze our creative thought process. Truly, more than anything else, the future trajectory of your own careers – be it with your business career, your professional career, or your academic career – is dependent upon your imagination and fear will kill the performance."
The sealed instructions turned out to be a gift; and Mr. Wahl presented his first painting to Maria, saying, "Sometimes it pays to take a risk."
Mr. Wahl went on to convey the theme of his most recent book, "UNthink." He said, "If we take ourselves as leaders, as students, too seriously along the way, it's naturally going to block our own ability to perform under pressure. And to the degree that you are able to expand your mind, you are able to transform your life. It is oftentimes our thinking – our critical thinking – that can be some of the greatest barriers to success. Where I would almost argue that unthinking – our ability to be imaginative – is going to be more important going forward. The greatest growth is going to take place on the boarder between chaos and order."
Mr. Wahl took time throughout the day and evening to meet guests and respond to questions. Having enjoyed the first presentation, several students encouraged their parents to attend in the evening. They took to Twitter to convey their praise and gratitude.
Jessica Johnson '16 wrote, "Best speaker ever! Changed my view on life!"
After the first show, Mr. Wahl hid one of his paintings on The Hun School campus and encouraged those inspired to hunt for it. Wil Hagen '15 beat the throngs of students searching to the piece before the first clue was even posted.
Wil said, "I think he did a very good job getting the attention of the student body in a way that no other speaker so far has. His story is inspiring as is his artwork. I found it really cool how he broke down each portrait to only the essential parts of the painting, so he could give the bare minimum, while still achieving a full painting. Every time he started a new painting, he had everyone on the edge of their seats, puzzled on what it would be, but by the end, the whole audience would be in awe."
The suggestion of the power of creativity coupled with the opportunity to directly experience Mr. Wahl's artistry made for a unique educational experience. With creativity emerging as an essential skill for students and professionals in the 21st Century, Mr. Wahl's message was as advantageous as it was enjoyable.
Students arriving to campus the next day discovered four blank canvas and several tubes of bright finger paint on display. Each Raider House is invited to H…UNthink, – to exercise their creativity and collaboration to create a house-inspired piece. Points will be awarded for creativity.
About The Hun School of Princeton:
The Hun School of Princeton is a co-educational, private day and boarding school in Princeton, New Jersey. Individual attention and strong student-faculty relationships are the hallmarks of the School. On the 45-acre campus between Philadelphia and New York City, student-centered, hands-on learning prepare students for the global community in which they will live and work. The Hun School is comprised of 629 students in its Middle School, Upper School, and Postgraduate Program. The Hun School is home to students from seventeen countries and fifteen states.