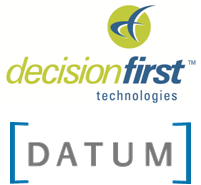 This partnership offers proven practices for aligning data discipline with analytics execution for information success.
Atlanta, GA (PRWEB) March 10, 2014
Decision First Technologies (DFT) and DATUM LLC proudly announces their new corporate partnership in the enterprise information management arena. Well-respected in the SAP® ecosystem, Decision First and DATUM will partner to deliver proven expertise in both analytics and information governance, providing customers with a comprehensive and integrated lifecycle view of their corporate data.
"We are thrilled to team up with DATUM LLC to provide an exceptional enterprise information management strategy for our clients," states Taylor Courtnay, Co-Founder and Vice President of Sales, Decision First Technologies. "As a result of our complementary business philosophies, methodologies and knowledge base, our clients benefit from a depth and breadth of knowledge few other companies can deliver."
DATUM LLC has earned industry respect by demonstrating the business impact of information trust on operations, analytics and how to innovate with big data. Focused on enabling customers with a repeatable framework for successful tools deployment, DATUM is committed to making information management a process discipline that includes developing a set of values and behaviors to consistently deliver the right decisions.
Likewise, DFT is committed to helping its customers reach the pinnacle of business intelligence success through customized solutions that help improve end-user adoption. DFT knows that simply owning the right technology isn't enough and has dedicated time and resources to advance the understanding of information management using the SAP HANA® platform. The company's work includes authoring the 2013 book Implementing SAP HANA, a best-selling book from SAP® Press.
"With DFT's analytics success and our information governance expertise, we offer a broader, deeper level of knowledge to clients working with SAP HANA and big data," states Will Crump, President, DATUM LLC. "We anticipate this partnership will put our clients a step ahead of their competition by delivering long term, predictive, and proactive results that help transition their EIM efforts from a single project to a program of continued success."
For customers this partnership offers proven practices for aligning data discipline with analytics execution for information success.
With so many companies jumping into the information governance and analytics area, it's not uncommon to find a disconnect between the business and technology. The partnership between DFT and DATUM helps to bridge that gap, with both sides operating at their maximum efficiency to produce real-time, high quality data that businesses trust.
About Decision First Technologies
A nationally recognized business intelligence authority, Decision First Technologies (DFT) delivers proven technical best practices and methodologies focused on user experience and adoption. An SAP gold channel partner and seven-time SAP BusinessObjects™ Solution Provider Partner of the Year, DFT has earned the respect of the BI community by providing proven SAP-based solutions for analytics, EIM, data warehousing, and the SAP HANA platform to over 1,000 customers globally. Our recognized thought leaders share their expertise through speaking events, industry publications and authoring books such as Implementing SAP HANA, a best-selling book from SAP Press. BI is not something we do, it's all we do.
For more information on Decision First Technologies, visit http://www.decisionfirst.com.
About DATUM
The DATUM team is widely recognized by fortune 500 organizations, software vendors, analysts and systems integrators as the expert perspective in developing and delivering successful data management solutions for clients. DATUM has been recognized as a Gartner Cool Vendor for 2012. Large enterprises with global requirements have made the DATUM methodology and content an integral part of their value realization programs for EIM. DATUM is the critical success factor for companies who wish to stop building each project from scratch and start treating data as a process. DATUM LLC is an SAP services partner.
For more information on DATUM, visit http://www.datumstrategy.com.
©2014 Decision First Technologies. All rights reserved. Decision First and DFT are trademarks of Decision First Technologies. SAP, SAP HANA and all SAP logos are trademarks or registered trademarks of SAP AG in Germany and in several other countries. Business Objects, Business Objects, and the Business Objects logo are trademarks or registered trademarks of Business Objects in the United States and/or other countries. Business Objects is an SAP company. All other products and company names are trademarks or registered trademarks of their respective owners.
###