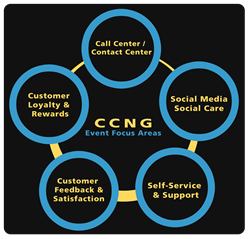 You get insights into how many ways there are to solve common problems...
Fort Worth, Texas (PRWEB) March 07, 2014
CCNG International Inc. is pleased to announce the April event schedule for the 2014 Improving the Customer Experience event series. The event in Tampa, FL on April 10th will be hosted by Coca Cola's contact center operations and the Phoenix, AZ event on April 24th will be hosted by Toyota Financial Services. Both events will focus on strategies and best practices for customer service and contact center operations can improve overall levels of customer experience in five key areas –

Call Center / Contact Center
Customer Loyalty and Rewards
Social Media / Social Care
Customer Feedback and Satisfaction
Self Service and Support
"Our events are hosted by CCNG members wanting to showcase their contact center and customer experience management capabilities," says David Hadobas, President and CEO of CCNG International Inc. "We had a great kickoff event in February with host Thompson Creek Window Company / Closet America in Lanham, MD and we look forward to our March 13th event in Charlotte, NC hosted by Family Dollar.
The focus for the CCNG events this year is on improving the customer experience, where attendees will gain valuable insights from many different professionals representing a wide range of industries including financial services, retail, travel, public utility, telecom, insurance, healthcare, BPO, and many more.
What are your peers saying about participation in CCNG events?
"After attending our first CCNG event, we decided to become members. Not only do you get to bend the ear of industry professionals who have experienced exactly what you have experienced – you get insight into how many ways there are to solve common problems. We've walked away from both events thinking, wow – I would have never thought about it like that, and, I'm sure glad we met so and so. Let's give them a call when we get back to the office and continue our conversation."- Jon Dill, Operations, All Car Leasing.
"The Thompson Creek Windows management team was great, they hosted a flawlessly conducted event that flowed smoothly and at which they made everyone feel comfortable. The Thompson Creek Windows team's presentations were outstanding, chock full of useful information and professionally delivered. And they have a great customer service story to tell!" says George Alber, Director, Winston Salem Industries for the Blind. "The CCNG team designed and facilitated an event with plenty of opportunity for town-hall like discussion and small group interaction that succeed in stimulating priceless best practice discussion among the participants."
The April events will feature a morning keynote from hosts Coca-Cola and Toyota Financial Services, an open all-attendee group discussion led by our hosts and sponsors, thought leadership "talks" from the sponsoring partners, followed by small group sessions and site tours. A very engaging ½ day full of insights, feedback, peer perspectives!
CCNG partners sponsoring the April events include Plantronics, Voice Print International VPI, Five9, Avaya, OpenSpan and Aspect Software.
For details on how to attend and guest pass availability, contact Ginger Graber, ggraber(at)CCNG(dot)com.
View program details at – http://www.CCNG.com
CCNG International Inc.
Founded in 1992, CCNG International Inc.
CCNG is a member Professional Peer Network (PPN) for Contact Center and Customer Service Executives, Managers, and Leaders.
Within the CCNG Member Network, Contact Center and Customer Service Professionals:

Connect for networking and sharing best practices
Interact to enhance their professional network and gain valuable insight into Contact Center and Customer Service best practices and technology.
Share their experience and ideas contributing to the valuable discussion
All Call Center, Contact Center, Customer Care, Customer Service, and Customer Experience Professionals are invited to participate in the CCNG Member Network.
For more information about the CCNG Member Network and to gain access, please visit CCNG.com. "Like" us on Facebook and follow us on Twitter @CCNGNetwork.