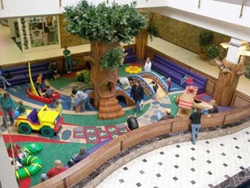 New York, NY (PRWEB) March 08, 2014
American airports are becoming more family-friendly by adding soft play areas. Soft play parks are a constant sight in European airports, and now U.S. major airports are following the trend.
Traveling can be a daunting experience for children. Cranky and impatient children often make the traveling experience worse for both parents and childless passengers. Soft play parks allow children to blow off some steam before boarding their flight. This results in a more pleasant flight for all onboard. Airports have seen a significant uptick in customer satisfaction ratings with the addition of a soft play park.
Many airports are turning to the leading manufacturer of soft play areas, DW Designs Inc, to design and construct the best soft play area for their airport. DW Designs creates custom-made play pieces for malls, shopping center, restaurants, and now airports. DW Designs staff works with airport personnel to create the perfect play area for the airport's specific needs.
"Each airport is different and their clientele varies widely. Therefore, each play work needs to be specially tailored to their needs," says Sam Nicholson, DW Designs Inc's marketing director.
With their increasing popularity, passengers can expect to see more soft play parks in airports across the U.S.