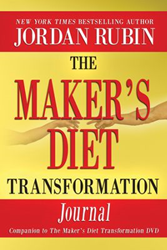 God wants to help you break through life's barriers and experience the life you have always dreamed of.
Shippensburg, PA (PRWEB) March 18, 2014
On the heels of Jordan Rubin's bestselling book, "The Maker's Diet," and the recent release of, "The Maker's Diet Revolution," comes the companion "Maker's Diet Transformation Journal" and "The Maker's Diet Transformation DVD." Destiny Image and Rubin are set to release these two products this month.
"Addiction, destructive behaviors, anxiety, negative thoughts and unhealthy diet are just a few of the many things people live with, and call it normal," said Rubin. "But this is not God's plan for your life. He wants to help us break through these barriers and experience the life we've always dreamed of!"
Using both the journal and the DVD along with the books, Rubin helps readers to access the key to unlocking total transformation, and set a course towards fulfillment of God's purpose. That key is fasting.
In the Transformation video sessions, Rubin conveniently breaks the ten-day experience into daily inspirational messages ideal for use in a small group or church setting.
Combined with the journal, these videos will help:

Develop a closeness with God;
Make God's voice heard clearly;
Empower to break addictions;
Teach how to completely rely on God's strength;
Launch people into a healthy, flourishing lifestyle.
Interviews, review copies and giveaway copies are available upon request.
Rubin is the author of 19 books, including the New York Times bestseller, "The Maker's Diet," with over 2 million copies in print. His story and his previous books have been featured on "Good Morning America," "NBC Nightly News," "Fox and Friends," "Inside Edition," and in "USA Today," "Time" and "Newsweek." Rubin also founded the Biblical Health Institute to empower the church to live the abundant life that glorifies God.
Destiny Image, located in Shippensburg, Pa, was founded in 1983 by Pastor Don Nori, Sr. It seeks to accurately represent authors who have a call to share God's present word to His people and to make these authors easily accessible to the Christian body around the world in every form of media possible.
FOR PRESS INQUIRIES, INTERVIEWS AND REVIEW COPIES:
Kristen Adams
(717) 532-3040, Ext. 135
kadams(at)norimediagroup(dot)com