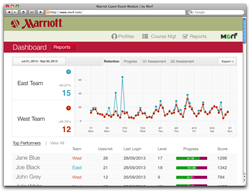 Morf Media Inc. is the global leader in 'Mobile Simulation Training for Enterprises'. Corporate America will be first to take advantage of 'Super-Human' skilled employees that can drive dramatic performance gains using Morf's new platform technology.
Palo Alto, CA (PRWEB) March 12, 2014
Matthew Manoni, a Sales Professional with experience of selling to Wall Street's Banking and Finance giants in New York City, has joined the mobile simulation training for enterprise start-up Morf Media Inc. The online simulation training will be engaging and fun, while still leading to concrete and recognised exams by employees. The platform will replace their otherwise dull and tedious learning materials. As the Regional Sales Manager for the East Coast, Mr. Manoni will be in charge of leveraging both existing and future clients in the Finance, and Hospitality sectors.
Matthew Manoni will be aiming to add to the existing clients Morf Media has already worked with including, Deutsche Telekom, Fairmont Hotels, Sofitel and Malaysia Airways. "I already have Morgan Stanley, Barclays and other large financial firms in the pipeline, and many more in mind", he stated.
Worldwide, only 13% of employees are engaged at work according to the management performance research company Gallup. Morf Media aims to address this issue, Roy Hanif explains:
"The problem is very clear, employees at enterprises are forced to undertake continuous training during their busy jobs and most of the current training is very uninspiring, so they try to skip it or do the minimum amount to pass tests. That's why performance of companies is hampered and poor skills-retention and mistakes often cost companies millions of dollar as well as damage their brand value. Matthew will help us reach these companies and provide our ground-breaking technology, in order to resolve the issue."
Matthew Manoni previously worked as account manager for the Financial Sector at Avaya, a global leader in enterprise communications systems. At Avaya, Matthew was in charge of supporting Morgan Stanley and other major clients. Previously, he worked at Yodle to provide businesses with a pipeline of new customers using online advertising. "In the time that I have worked with Matthew I was instantly impressed with his professionalism, drive and sales ability" commented Stephen Iacona, Executive Consultant at Yodle. Matthew graduated from Springfield College in 2010.
Morf Media provides mobile, simulation training for enterprise. Compelling 2D/3D intuitive environment will improve employee engagement, thereby improving material retention rates and corporate return on training investment. Morf Media was named a "Red Herring Top 100 award winner for innovation" and 2012 "European Accelerator Company" by PwC. Located in San Francisco, California..
For more information please view the contacts below:
Contact: roy.morfmedia.com
Webpage: http://www.morfmedia.com
Headquartered in Sunnyvale, California. USA