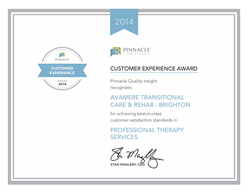 Brighton, CO (PRWEB) March 07, 2014
Over the past twelve months, Pinnacle Quality Insight, a nationally recognized satisfaction firm, interviewed the customers of Avamere Transitional Care & Rehab – Brighton regarding satisfaction levels.
"Customers were asked to evaluate several aspects of their received services," says Stan Magleby, CEO of Pinnacle Quality Insight. "From the results of these interviews, Pinnacle has determined that Avamere Transitional Care & Rehab – Brighton has qualified for a Pinnacle Customer Experience Award for Professional Therapy Services."
The purpose of the survey that led to the award is to understand the patient's experience, identify opportunities for improvement, and learn directly from the patient and their loved ones how to strengthen those areas.
Therapy services at the Brighton transitional rehabilitation center (located at 2025 E Egbert St.
Brighton, CO 80601) are provided by Infinity Rehab, which is a member of the Avamere Family of Companies. Physical, Occupational, and Speech therapists work with patients suffering from an illness or injury to regain independence and comfort.
"This reward is a reflection of the hard work and dedication Infinity Rehab therapists have when upholding the Avamere Family of Companies core mission: To enhance the life of every person we serve," says Avamere Health Services President, Gary Wart.
About Avamere Family of Companies
Founded in 1995 and based in Wilsonville, OR, the Avamere Family of Companies began as a single nursing facility in Hillsboro, OR. Today, the Avamere Family is comprised of 41 Independent Living, Assisted Living, and Skilled Nursing facilities, over 6,000 employees, and multiple ancillary healthcare companies – including Infinity Rehab – that provide services including inpatient and outpatient rehabilitation, home care, home health, and hospice.
About Pinnacle Quality Insight
For long-term care providers who need to measure customer or employee satisfaction, Pinnacle Quality Insight offers phone-based interviews that deliver a balanced blend of scoring and commentary. Unlike mailed questionnaires, our offering produces a high volume of real-time results.