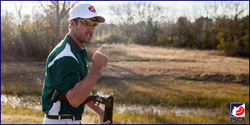 Houston, TX (PRWEB) March 10, 2014
Registration for the first event of The Professional Sporting Clays Association (PSCA) Inaugural Tour is now open. The event will take place on Sunday morning, April 6, 2014 at Able's Gun Club, in Huntsville, TX. Entrants may register at winscoreonline.com/.
This event will be a NSCA-registered shoot using the Saturday PSCA Pro qualification courses. The targets will not be changed. The top two men and women from each course (4 men/4 women) will have the opportunity to shoot with the Pros on Sunday afternoon and potentially be included within PSCA television coverage.
Details are as follows:
1. $100 entry, options available; full payment due at signup
2. Cancelations available up to 5 days prior to event
3. Limited to 150 total shooters; 75 per each course
4. One rotation only; Shotgun start at 9:00 AM
5. No trappers on courses; ALL shooters will be RANDOMLY squadded
6. Squadding will be posted on Saturday April 5, 2014
7. 5 man squads/2 view pairs only
8. Registration opens at 7:30 AM
9. MANDATORY Meeting at 8 AM for all NSCA Shooters prior to event
10. Shoot-offs to determine top spots as necessary
11. Special shirts will be provided by PSCA and MUST be worn by Amateurs for the afternoon shoot with Pros
12. PSCA rules and regulations apply-Sunday Finals format
13. Pro Finals start at 1:30 PM
14. If shooting with Pros, a pre-meeting with Pro officials 1 hour prior to the finals at 12:30 PM Sunday.
15. Amateurs shooting on Sunday afternoon NOT eligible for cash prizes
About The Professional Sporting Clays Association
The purpose of the Professional Sporting Clays Association (PSCA) is to provide a professional tour for top athletes. This tour will give qualified top athletes of the sport greater access to closed competition with other athletes of similar skill. It will also provide access to media and other notoriety, which in turn will allow them all of the benefits of other professional sports. By creating such an association, the benefits will not be limited to the professional athletes, but also to amateur competitors, club owners, and the entire industry by allowing greater mainstream acceptance of the sport. Updated news and events news regarding PSCA can be found at http://www.psca.com and by following PSCA at facebook.com/PSCAtour and twitter.com/PSCAtour.
# # # # # # # #