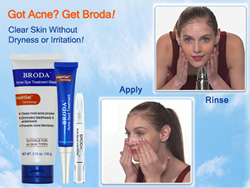 Plainsboro, NJ (PRWEB) March 09, 2014
Broda International, LLC and Broda Technologies Co., Ltd. have launched a new line of Broda™ skincare acne system, offering an advanced patent-pending formula that delivers an acne fighting ingredient with high efficacy and mildness while providing skin care benefits for acne treatment.
Broda skincare acne system is a revolutionary acne treatment specially formulated with maximum strength salicylic acid (BHA) in an alcohol-free, clear and transparent smart hydrogel system with sustained release. It is highly effective and forms hydrating invisible patch without dryness, peeling or flaking which are drawbacks typically associated with most acne treatment medications on the market. Broda skincare acne system works for most acne sufferers, offering high efficacy and mildness while providing skin care benefits for all skin types. In fact, most of people in studies showed improvements for relief of swelling and pain associated with blackheads or whiteheads in as short as few hours, and had visible differences for both reduced appearance of acne scars and smoothness of skin during the course of treatment.
"By applying advanced IntelliGel® technology, a smart supramolecular hydrogel delivery system, we are able to deliver the water insoluble active acne fighting ingredient in water for the first time without alcohol or other solvents, and that makes the product safer, milder and highly effective," as explained by Dr. Lucy Liu, Vice President of the company. Broda offers high efficacy in fighting and preventing acne through its unique advanced patent-pending formula, while at the same time avoids skin irritation, dryness or sensitivity caused by the presence of large amount of alcohol or other harsh chemicals in the products on the market.
The current OTC acne market is estimated at about $3 billion in sales annually with a range of key consumers from young to adult, mild to severe acne sufferers alike looking for relieve through over-the-counter medications. For past decades, the lack of innovative products contributes to the highly unmet demands posed by the existing market. The introduction of Broda skincare acne system will sure to reenergize the OTC acne market, and will deliver unmet consumer need gaps for a simpler, milder and highly effective acne treatment with consumer perceivable skin care benefits. With the plethora of acne products with similar "me-too" formulations on the market, Broda is confident that its products will stand out against competition.
"For years I have used prescription medications to treat my acne. After two weeks of using Broda, my skin was clearer than it ever was while on medication. The redness and irritation went away so quickly. I have since stopped taking medication and use Broda exclusively to treat my acne." - As shared in a testimonial by Mr. Jason Hammond from Denver, Co.
Broda is now offering promotional introductory offers for first-time customers looking to try the product. For more information, visit http://www.broda.com.
About Broda International, LLC and Broda Technologies Co. LTD.
Founded by leading scientists in the industrial, Broda is an innovative pharmaceutical and consumer care technology company with focus on research, development and market IntelliGel® smart supramolecular drug delivery system and related innovative products. Broda is proudly made in the USA. To learn more, visit http://www.brodatech.com.