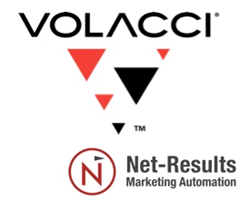 Together, we make digital marketing easlier and massively more profitable for Drupal website owners.
Austin, Texas (PRWEB) March 18, 2014
Volacci, the Austin, TX-based Drupal marketing intelligence company, and Net-Results, the Golden, CO-based marketing automation platform company, are pleased to announce that Automatr®, Volacci's flagship marketing product for Drupal, is powered by Net-Results' award-winning SaaS platform.
"Automatr with Net-Results allows CMOs and Marketing Directors to create personalized customer experiences that grow revenue," explains Ben Finklea, CEO of Volacci, "Together, we make digital marketing easier and massively more profitable for Drupal website owners."
Volacci's Automatr® and forthcoming Targetr™ products are add-ons to the open-source content management system Drupal. They create a marketing automation interface and dynamic web personalization engine that allows marketers to build one-to-one web experiences based on visitor data, segmentation, and content availability. The partnership with Net-Results gives Volacci customers access to many additional tools like email campaigns, lead scoring, nurturing, and CRM integration.
"Volacci is taking the digital user experience to new levels and we are excited about our partnership," said Matt Filios, President of Net-Results, "The Automatr and Targetr products are powerful tools in the hands of today's digital marketer and they are sure to make an impact on the Drupal community."
Volacci offers what they call "Drupal Marketing Intelligence" - a combination of marketing software tools like Automatr® and Targetr™, digital marketing services, training, and information designed to help marketers build and manage Drupal websites.
For companies interested in receiving Volacci's weekly Drupal Marketing Brief, visit https://www.volacci.com/newsletter.
About Volacci:
Volacci helps CMOs and Marketing Directors that use Drupal increase their efficiency and revenues with software, services, training, and knowledge. In 2013, Volacci Automatr® became the first integrated marketing automation platform built exclusively for Drupal. In 2014, Volacci announced Targetr™, a real-time, dynamic web personalization product. Volacci customers include State Farm, RedHat, Oracle/Taleo, HP, University of Georgia, Inc Magazine, and Yeti Coolers. To learn more visit http://www.volacci.com or follow @Volacci on Twitter.
About Net-Results:
Net-Results helps companies increase revenue growth and improve sales efficiency with powerful lead management solutions for marketing and sales. Its distinctly unique Segment-Driven™ approach to Lead Management and Marketing Automation helps users develop and leverage superior relationships to turn prospects into customers. Over 13,000 users on six continents trust the power and simplicity of Net-Results' award-winning Marketing Automation Platform (MAP). To learn more visit http://www.Net-Results.com or follow @NetResults.
# # #
If you would like more information about this topic, please contact Ben Finklea at 512-632-4222 or email at ben(at)volacci(dot)com.