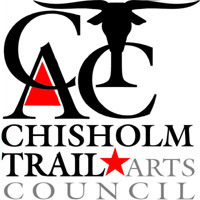 Duncan, OK (PRWEB) March 13, 2014
The Chisholm Trail Arts Council is currently looking for artists that would like to contribute their talents for their annual Arts Explosion youth camp. The camp will be July 14-18 (8:00a-12:30p), 2014 and will be held at the Stephens County Fairgrounds in Duncan, Oklahoma.
Arts Explosion 2014 is CTAC's annual weeklong summer arts day camp. The camp allows students to work with professional / experienced artists, learning a variety of techniques and skills in the different mediums/classes offered.
Limited to 80 students total, Session One age group will include students who have complete 3rd, 4th, or 5th grades. There will be approximately 20 students per class. Limited to 60 students, Session Two will include students in 6th grade and above. Adult classes will be held three of the evenings that week.
On Friday evening (18th), there will be a student/faculty showcase, which will be held between 5:30 and 7 p.m. All instructing artists are encouraged to participate as fully as possible in the showcase by displaying their work.
ARTISTS interested in teaching should contact the CTAC Executive DIrector, Darcy Reeves. Artists will be asked to provide a resume of teaching experience, type of medium/ style art, basic itinerary of class project, and cost of supplies needed
CTAC is a nonprofit 501(c)(3) organization. Arts Explosion is made possible through partial grants from the Oklahoma Arts Council, through the generosity of the McCasland Foundation and National Rural Water Association and CTAC members.
For more information please contact 580-252-4160.