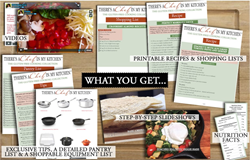 After teaching thousands of people to cook over the course of 20 years I've found that anyone can cook...anything; it's simply a matter of being shown how.
New Milford, CT (PRWEB) March 10, 2014
Chef Silvia Bianco has launched an exciting and unique concept for home chefs to serve up delicious and healthy Gluten-Free Mediterranean dishes. There's a Chef in my Kitchen is a special collection of seasonal recipes for the novice and seasoned cook which are presented online in an audio and video format, readily available for every style of learning.
The concept is simple. Once the product is purchase, the user creates a username and password, allowing access to a protected space where they will see each recipe in video, slideshow or PDF format. Push play on the video and Chef Silvia will walk the home cook through the recipe, guiding them every step of the way - from the pantry and shopping list, what pots and pans to use, to the finished dish; watch the slideshow captioned with simple step-by-step instructions. Finally, view and download the PDF recipe complete with nutritional facts.
There's A Chef in My Kitchen, is available at http://www.chefsilvia.com. In this first guide to cooking there are 15 Gluten-Free Mediterranean Recipes including Risotto with Wild Mushrooms and Spinach; Crepes with Avocado, Prosciutto, & Arugula; Stuffed Eggplant Meatballs; Frittata with Mushrooms, Spinach, and Sun-dried Tomato, to name a few. In addition to being available in three formats: video, a slide show and text version, there is also a complete pantry and equipment list as well as nutritional information. The cost for the complete guide is $29.95. There's a Chef in my Kitchen is available online and can be viewed on all smart phones and tablets – so the chef is wherever the kitchen may be. To sample a recipe from Chef Silvia's new "book", click here.
"After teaching thousands of people to cook over the course of 20 years I've found that anyone can cook...anything; it's simply a matter of being shown how," said Chef Silvia. "I give clear step by step directions all the way to the plated dish. I tell the viewer about the tricky parts where they'll really need to pay attention - and the parts where they can wing it, be expressive, alter to their liking or just leave something out. Those who've tested it tell me it really is like having me in the kitchen cooking beside them."
"As a native Italian and professional chef, it's against my religion to put out a dish that doesn't taste great; as a person aware that we've sacrificed well-being for convenience, I'm on a mission to teach you how to be a great cook; take control of your life and return to vibrancy. In Italy we call it ... living la dolce vita—the sweet life," Chef Silvia added.
About Silvia Bianco
Silvia Bianco, MBA is an award winning chef, writer, mother and former restaurateur. She was the co-owner of Biscotti, a much-loved Mediterranean restaurant in Connecticut and winner of Zagat's "Award of Distinction" for multiple years. At Biscotti, Silvia wowed her customers with original, sautéed Italian dishes, which exemplified the simplicity of her native cuisine in her own distinct contemporary style. She quickly became known simply as, Chef Silvia. Silvia is a regular contributor to the hugely popular wellness website, Mind Body Green. For more information, visit http://www.chefsilvia.com or join her on http://www.facebook.com/ChefSilviaBianco.