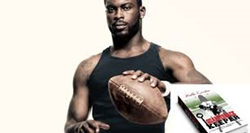 Romantic, Exciting, Revealing, Hilarious, And So Much More! - Bella Escritor
(PRWEB) March 10, 2014
The highly talked about book, "Quarterback Keeper" is now available for download on tablets, iPads, and more. It is the controversial story of a ten year relationship with Michael Vick and has already drawn worldwide attention.
There have been tons of articles pinpointing only certain sections of the book, but now the world has a chance to read the entire story. A chance to find out that there is a lot more that those news articles have failed to mention.
It is nothing at all like The Michael Vick Project; not even close. This story actually goes more in depth and behind the scenes of what was actually taking place before, during, and after the filming of that show. No topic is sheltered and more information regarding the quarterback is exposed in a manner never done before. New people are introduced, new animals are brought to light, along with an eye witness account of former career affecting headlines.
What Michael Vick failed to mention in his story of redemption, can be found directly inside of the pages of this book.
Don't mistake this book as just another tell-all. Each chapter contains an intriguing truth that separates it from the others. Read as the story goes back in time to sporting events, prison calls, tearful admissions, dog-fighting conversations, threats, and more.
Sports fans, NFL teams, and anyone else who has heard of Michael Vick may find it very interesting to read this story. A story that started early in Vick's career and only ended two years ago. A decade worth of untold secrets and subject matter can now be found inside of this book.
Hardcopies are available at QuarterbackKeeper.com.
eBook versions are available at BarnesandNoble.com and Amazon.com. As well as other eBook retailers.
Inquire directly to Authorkjohnson(at)gmail(dot)com or visit the website for the book QuarterbackKeeper.com.